Otomachi Una VOCALOID4 Talk Ex | Songs Albums Notable Originals
---
Otomachi Una (音街ウナ) is a Japanese VOCALOID developed by Internet Co., Ltd. in collaboration with MTK Inc. and was released in July 2016 for the VOCALOID4 engine.
She is voiced by the Japanese voice actress, Aimi Tanaka (田中あいみ; Tanaka Aimi).
Una comes with two voicebanks titled "SUGAR" and "SPICY". These names, as well as her age of 11, are likely a reference to the old nursery rhyme "What Are Little Boys Made Of?". In the rhyme, little girls are said to be made of 3 things: sugar, spice, and everything nice.
Her birthday is July 30.
Etymology
Edit
It is likely that her given name "Una" is based on unagi ("eel") in reference to her hat. The kanji in her surname literally means "sound" (音, oto) and "town" (街, machi).[1]
Appearance
Edit
Una's appearance has a blue motif, including blue hair, clothing, and hat. Her hat is described as an eel-themed ottoman hat (オタマン帽(うなぎ)).[2] As shown in promotional art, the hat's expression changes, often matching or complimenting Una's expressions.
Her attire for her Sugar voicebank is based on a marching band outfit, while her outfit for her Spicy voicebank is based on a Japanese school uniform. On her talk software, she is featured in a teacher's outfit.
Music featuring Otomachi Una
Edit
Examples of usage
はやくそれになりたい!
Start Up
| | |
| --- | --- |
| Translation | Start Up |
| Featuring | Otomachi Una |
| Producers | Hito de Nashi |
| Categories | Original song |
おどれ!VRダンス
トリッシュ姫とかぼちゃの怪物

| | |
| --- | --- |
| Translation | Torisshu-hime to Kabocha no Kaibutsu |
| Featuring | Otomachi Una |
| Producers | Parune-P |
| Categories | Original song |
Search for music featuring Otomachi Una
[show/hide]
Additional Information
Edit
Marketing
Edit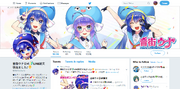 On her website, Una has a list of downloadable content which includes official MMD models created by kuu_wanko and Rennya, free motion data, and official video materials.[3]
She has an official twitter and website.
Reputation
Edit
Mascot status
Google Trends
Achievements
First VOCALOID from MTK
First new VOCALOID4 character developed by Internet Co., Ltd
Community polls
Do you like Otomachi Una?
What characteristic of Otomachi Una do you like?
References
Edit
External links
Edit
| Language | Description | Site |
| --- | --- | --- |
| Japanese | SingerSongWriter Jp official homepage | Link |
| Japanese | Otomachi Una official website | Link |
| Japanese | Music City 57 Jp official website | Link |
| Japanese | 音街ウナ(公式) official twitter | Link |