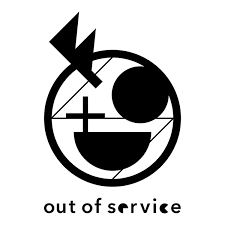 Affiliations
[
]
External links
[
]
Official
[
]
Unofficial
[
]
out of service (previously known as "out of survice") is a music unit consisting of two producers: Konishi Hayao (小西駿) and Ohno Kai (大野海). They mainly use IA and GUMI, although they also have used Hatsune Miku and Kagamine Rin. Many of their videos have reached 10,000 views on Niconico.
They gained popularity after uploading "Tokyo Real World" and the release of their first album SECRET8.
On November 28, 2016, out of service released a new MV for "Tokyo Real World". They also changed the spelling of "survice" to "service". They have a new website under 1st PLACE CO.
Their main styles are J-pop and rock and they started on January 2013.
Works
[
]
| Links | Title | Featuring | Date | Roles |
| --- | --- | --- | --- | --- |
| | "サイコモーション" | GUMI | January 25, 2013 | music, lyrics, illustration, video |
| Niconico YouTube | スクランブルエッグガール (Scrambled Egg Girl) | Hatsune Miku | February 12, 2013 | music, lyrics, illust |
| | "セルリアンヴェスパ" | IA | March 10, 2013 | music, lyrics, illust |
| | "ガーネットフォスファ" | GUMI | March 10, 2013 | music, lyrics, illust |
| Niconico YouTube | ユメサクラ (Yume Sakura) | GUMI | April 06, 2013 | music, lyrics |
| Niconico YouTube | ブラックエンドターミナル (Black End Terminal) | GUMI, IA | April 12, 2013 | music, lyrics |
| | "ホワイトアウト" | IA | April 20, 2013 | music, lyrics, illust |
| | "東 京 リ ア ル ワ ー ル ド" | IA | April 24, 2013 | music, lyrics |
| Niconico YouTube | おかえり (Okaeri) | Hatsune Miku | August 02, 2013 | music, lyrics |
| Niconico YouTube | メテオライト・サテライト (Meteorite Satellite) | Kagamine Rin | August 22, 2013 | music, lyrics |
| | "M'AIDER遭難ガール" | IA | September 6, 2013 | music, lyrics |
| | "錻のツバメ" | GUMI | September 13, 2013 | music, lyrics, video |
| | "7th room" | IA | November 03, 2013 | producer |
| | "横浜バトルライン" | IA | March 2, 2014 (NND) and February 28, 2018 (YT) | producer |
| Niconico YouTube | 桔梗の涙 (Kikyou no Namida) | GUMI | May 17, 2014 | music, lyrics |
| | "秘密のパプリカ" | IA ROCKS | June 6, 2014 | producer |
| | "ホワイトアウト" | IA ROCKS | July 11, 2014 | music, lyrics, illust |
| Niconico YouTube | 大阪アンダーグラウンド (Osaka Underground) | IA | November 13, 2014 | music, lyrics |
| | "憧憬~DOUKEI~" | IA ROCKS | November 19, 2014 | video |
| | ""マジックアワー"" | IA | December 19, 2014 | music, lyrics |
| | "Diamond Days" | IA | September 27, 2015 | music, lyrics |
| | "東京リアルワールド" | IA | November 28, 2016 | music, lyrics, tuning |
| Niconico YouTube | ホロンボット (Holon Bot) | ONE, CYBER DIVA | January 26, 2017 | music, lyrics |
| | "Reload" | IA and ONE | January 27, 2017 | music, lyrics, arrangement |
| Niconico YouTube | 潜水島 (Sensui Tou) | IA | June 17, 2017 | music, lyrics |
| Niconico YouTube | 星の後日談 (Hoshi no Gojitsudan) | Hatsune Miku | July 21, 2017 | music, lyrics |
| Niconico YouTube | 無人飛行 (Mujin Hikou) | IA | December 14, 2017 | music, lyrics |
| Niconico YouTube | 星の後日談 (Hoshi no Gojitsudan) | Hatsune Miku | July 21, 2017 | music, lyrics |
| | "錻のツバメ (Re.arr.)" | GUMI | March 01, 2018 | music, lyrics, video |
| Niconico YouTube | 祭・祭・祭 (MA・TSU・RI) | IA, ONE | March 05, 2019 | music, lyrics |
| YouTube | 日本誕生 (Nihon Tanjou) | IA | June 20, 2019 | music, lyrics |
Albums
[
]
Discography
[
]
| Affiliation | Title | Featuring | Date | Roles |
| --- | --- | --- | --- | --- |
| None | "SECRET8" | GUMI, IA, Hatsune Miku | April 27, 2013 | music, lyrics |
| None | "PLANET8" | IA, GUMI, Hatsune Miku, Kagamine Rin | November 17, 2013 | music, lyrics |
| 1st PLACE Co., Ltd. | "大阪アンダーグラウンド" | IA, Hatsune Miku, GUMI | November 15, 2014 | music, lyrics |
| IA PROJECT (1st PLACE Co., Ltd.) | "The History of OOS" | Hatsune Miku, IA, GUMI, ONE, CYBER DIVA | July 19, 2017 | music, lyrics, arrange |
Compilations
[
]
| Affiliation | Title | Featuring | Date | Roles |
| --- | --- | --- | --- | --- |
| EXIT TUNES Co., Ltd. | "EXIT TUNES PRESENTS GUMitia from Megpoid" | GUMI | April 3, 2013 | music, lyrics |
| BinaryMixx Records | V Love 25 -Fortune- | Hatsune Miku, Kagamine Rin & Len, GUMI, Megurine Luka, IA, Camui Gackpo, KAITO, MEIKO | April 24, 2013 | music, lyrics |
| Independent | "地獄型人間動物園" | GUMI, Hatsune Miku, IA, Kagamine Rin | November 08, 2013 | music, lyrics |
| VOCALOID RECORDS, YAMAHA MUSIC COMMUNICATIONS, Inc. | ボカ☆フレ!2 - VOCALOID™ FRESHMEN 2- (VOCA☆FRE! 2 -VOCALOID™ FRESHMEN 2-) | Hatsune Miku, IA, GUMI, Kagamine Rin | November 13, 2013 | music, lyrics |
| Open Real Records | Nearly Naked | Hatsune Miku, IA, Aoki Lapis, Kagamine Len | November 17, 2013 | music, lyrics |
| VOCALOID RECORDS, YAMAHA MUSIC COMMUNICATIONS, Inc. | "天響ノ和樂2" | Hatsune Miku, Kagamine Rin & Len, GUMI, Megurine Luka, Nekomura Iroha, Kaai Yuki, VY2, and VY1 | February 26, 2014 | music, lyrics |
| SPUTONIC | ぐみらいぶっ! 2013 feat. Megpoid (GUMI Live! 2013 feat. Megpoid) | GUMI | February 28, 2014 | music, lyrics |
| SPUTONIC | LISTENIN' GUMI!! -Spring- feat. Megpoid | GUMI | May 30, 2014 | music, lyrics |
| TEAM Entertainment | "IA THE WORLD ~蒼~" | IA | July 2, 2014 | music, lyrics |
| 1st PLACE, IA Project | IA/03 -VISION- | IA | November 05, 2014 | music, lyrics |
| Gakken Plus | ボカロで覚える高校日本史 (Vocalo de Oboeru Koukou Nihonshi) | IA, Hatsune Miku, Megurine Luka, Kaai Yuki, Kagamine Rin, Otomachi Una | February 19, 2019 | music, lyrics |
Gallery
[
]