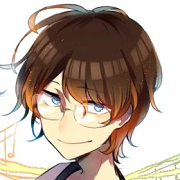 Affiliations
[
]
External links
[
]
Official
[
]
Unofficial
[
]
PoKeR, formerly known as Dapai de Chuyin (打牌的初音; Dǎpái de Chūyīn) and rekop, is a Chinese producer who first became interested in VOCALOID in 2010 and later made his debut in March 2012. He is most known to work with J-Pop and for his skills in piano accompaniment.
On March 8, 2018, he became the eighth Chinese producer to reach 100,000 followers on bilibili. His most notable works include "Ài" and "dream→world→singing".
His birthday is April 18, 1994, and he resides in Shanghai.
Works
[
]
| Links | Title | Featuring | Date | Roles |
| --- | --- | --- | --- | --- |
| | "丝竹之弦" | Luo Tianyi | July 18, 2012 | music, lyrics, tuning, mixing |
| | "爱" | Luo Tianyi | July 19, 2012 | compose, arrange, lyrics, tuning |
| | "夢想→World→歌唱" | Luo Tianyi | February 5, 2013 | compose, arrange, tuning |
| | "断裂的心轨" | Luo Tianyi | July 18, 2013 | compose, arrange, lyrics, tuning, mixing |
| | "七秒之恋" | Luo Tianyi | August 26, 2013 | music, tuning, lyrics |
| | "月下蝉" | YANHE, Luo Tianyi | October 6, 2013 | music |
| | "催眠怪盗言和 " | YANHE | December 20, 2013 | compose, arrange, tuning |
| | "雊鹆" | Luo Tianyi | July 24, 2014 | music, mixing, tuning |
| | "九秒之言" | Luo Tianyi | February 14, 2015 | music, tuning, mixing, lyrics |
| | "七十億分之一的代替品" | Luo Tianyi | June 4, 2015 | music, tuning |
| | "心往" | Yuezheng Ling | October 1, 2015 | lyrics, compose, arrange, tuning, mixing |
| | "被拯救者的物语" | Luo Tianyi | December 10, 2015 | music, tuning |
| | "四秒之眷" | Luo Tianyi | December 12, 2015 | lyrics, compose, arrange, tuning, mixing |
| | "我可能放了假寒假" | Luo Tianyi | January 16, 2017 | producer |
| | "双钰·南北" | Luo Tianyi, Yuezheng Ling | March 10, 2017 | music, tuning, mixing |
| | "当然是选择原谅她啊" | Luo Tianyi | April 13, 2017 | producer |
| | "歪歪?" | Luo Tianyi | August 9, 2017 | music, tuning, mixing |
| | "漂亮面对" | Luo Tianyi | October 21, 2017 | lyrics |
| | "10p.m." | Yuezheng Longya | February 12, 2018 | arrange, mixing |
| | "九尾妖狐" | Luo Tianyi | April 4, 2018 | tuning, lyrics, compose, arrange, mixing |
| | "夏日活荔" | Luo Tianyi | May 22, 2018 | lyrics |
| | "够真才出涩" | Luo Tianyi | June 11, 2018 | compose |
| | "半盏" | Luo Tianyi, YANHE | June 17, 2018 | compose, arrange |
| | "多情岸" | Luo Tianyi | June 22, 2018 | harmony composition |
| | "洛阳怀" | Luo Tianyi | July 6, 2018 | arrange, harmony compilation |
| | "天生尤物" | YANHE | July 10, 2018 | music |
| | "血小板之歌" | Luo Tianyi | July 18, 2018 | producer |
| | "易水诀" | Yuezheng Ling, Luo Tianyi | July 28, 2018 | harmony composition |
| | "绣花拳" | YANHE | November 1, 2018 | compose, arrange, mixing |
| | "道路千万条" | Luo Tianyi V4 Ning | February 12, 2019 | compose, arrange, tuning, mixing |
| | "笔记本上的幻想世界" | Luo Tianyi V4 Meng | June 23, 2019 | lyrics, compose, arrange, tuning |
| | "Starlight" | Luo Tianyi | July 12, 2019 | lyrics, compose, arrange, mixing |
Albums
[
]
Compilations
[
]
| Affiliation | Title | Featuring | Date | Roles |
| --- | --- | --- | --- | --- |
| CrossOz | "第一步" | Luo Tianyi | June 11, 2013 | compose, arrange, lyrics, tuning, mixing |
| YANHE PROJECT | "The Stage 2" | YANHE | November 25, 2013 | compose |
| CrossOz | "第二页" | Luo Tianyi, YANHE | June 1, 2014 | compose, arrange, tuning, mixing |
| CrossOz | "遇定调和" | YANHE | July 11, 2018 | compose, arrange, mixing |
| Vsinger | "Lost in Tianyi" | Luo Tianyi | March 1, 2019 | compose, arrange, lyrics, tuning |
| Medium⁵ | "海纳百川'" | Xingchen, Shian, Haiyi | December 20, 2020 | compose, arrange |
| Beijing Photek S&T Development Co., Ltd. | "平行四界 X-1'" | Xingchen, Chiyu, Shian, Cangqiong, Haiyi, Muxin, Minus | June 4, 2021 | compose, arrange, tuning |
| Beijing Photek S&T Development Co., Ltd. | "平行四界 X-2'" | Xingchen, Chiyu, Shian, Cangqiong, Haiyi, Muxin, Minus | October 26, 2021 | compose, arrange, tuning |