✞

This producer has passed away, as confirmed by reported sources. Do be respectful in the comments.
Any changes should be notified to ensure that edits meet this wiki's policies and guidelines.  Discussions for the departed are here and see more subjects categorized here.

✞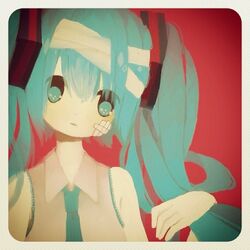 Affiliations
External links
Official
Unofficial
Powapowa-P (ぽわぽわP), also known as siinamota (椎名もた), formerly Furukawa Noro (古河のろ)[1], real name Mizoguchi Ryou (溝口遼)[2], was a composer at the Japanese music label GINGA. He was born March 09, 1995 in Ishikawa Prefecture, Japan, and his blood type was AB.[3][4]
From a young age, he had been fond of musical instruments, and started creating DTM (desktop music) when he was at the second year of middle school (14 years old).[3] Some time later, he began gaining recognition from composing VOCALOID music, going under various aliases such as Pico:, highcolor_sunz (ハイカラさん), Nioudachi (仁王立ち).
In the midst of his rising popularity, Powapowa-P underwent a temporary suspension of activity from January 2011 to May 30th of the same year.[3]
In 2012, he joined GINGA, and proceeded to release the album Yume no Mani Mani. Since then, he had been active in various fields, making appearances on TV, live performances, and constantly producing remixes and music.[3]
His music usually utilizes the sound percussion, creating a comfortable and soothing melody. His P-name, Powapowa-P, also originated from such characteristic of his songs. He mainly used Hatsune Miku and Kagamine Rin in his works, and his most notable work is Q. Many of his works have entered the Hall of Fame on Niconico.
He passed away on July 23, 2015 at the age of 20[2][5], from undisclosed reasons[6].
Works
| Links | Title | Featuring | Date | Roles |
| --- | --- | --- | --- | --- |
| Niconico piapro | おはよう。 (Ohayou.) | Hatsune Miku | August 27, 2009 | music, lyrics |
| Niconico | one dramatic etc… | Hatsune Miku | September 12, 2009 | music, lyrics |
| Niconico piapro | ココロノコリと浮遊 (Kokoronokori to Fuyuu) | Hatsune Miku | October 12, 2009 | music, lyrics |
| Niconico piapro | ブラウン (Brown) | Hatsune Miku | November 07, 2009 | music, lyrics |
| piapro | ココロノコリと浮遊 (Kokoronokori to Fuyuu) | Megurine Luka | November 17, 2009 | music, lyrics |
| Niconico piapro | メモリーバイステイ (Memory By Stay) | Megurine Luka | January 18, 2010 | music, lyrics |
| Niconico piapro | Lab* | Hatsune Miku | April 04, 2010 | music, lyrics |
| Niconico | ジニアとミーム (Zinnia to Meme) | Megurine Luka | May 03, 2010 | music, lyrics |
| Niconico | Good morning * Good bye | Hatsune Miku | June 18, 2010 | music, lyrics |
| Niconico piapro | Human | Hatsune Miku | July 23, 2010 | music, lyrics |
| Niconico SoundCloud | さよならリメンバーさん (Sayonara Remember-san) | Hatsune Miku | July 29, 2010 | music, lyrics |
| Niconico piapro | ワンダーテイカー (Wonder Taker) | Hatsune Miku | August 09, 2010 | music, lyrics |
| Niconico piapro | ストロボハロー (Strobe Hello) | Hatsune Miku | August 14, 2010 | music, lyrics |
| Niconico | ブラウン (Brown) | Megurine Luka | August 26, 2010 | music, lyrics |
| | "Equation+**" | Kagamine Rin | September 10, 2010 | music, lyrics |
| | "そらのサカナ" | Hatsune Miku | September 14, 2010 | music, lyrics |
| Niconico | stoy. | Hatsune Miku | October 22, 2010 | music, lyrics |
| | "ハローストロボ" | Hatsune Miku | November 10, 2010 | music |
| Niconico | Human ( a Android works ) | Hatsune Miku | December 11, 2010 | music, lyrics |
| Niconico | Halo | Hatsune Miku | January 01, 2011 | music, lyrics |
| | "ストロボラスト" | Hatsune Miku | January 20, 2011 | music, lyrics |
| Niconico piapro | ササメク (Sasameku) | Hatsune Miku | February 01, 2011 | music, lyrics |
| Niconico SoundCloud | lifeworks | Hatsune Miku | March 22, 2011 | music, lyrics |
| | "怪盗・窪園チヨコは絶対ミスらない" | Kagamine Rin | May 30, 2011 | producer |
| | "アストロノーツ" | Hatsune Miku | June 2, 2011 | music, lyrics |
| | "equation×**" | Kagamine Rin | June 13, 2011 | music, lyrics |
| Niconico | サウンドオブひみつの旅団 (Sound of Himitsu no Ryoudan) | Kagamine Rin | August 29, 2011 | lyrics |
| | "ストロボライト" | Hatsune Miku | September 03, 2011 | music |
| | "おやすみの中おやすみ" | Hatsune Miku Append SOLID | October 12, 2011 | tuning, music |
| Niconico | ブラウン (Brown) (Remodel) | Hatsune Miku | December 18, 2011 | music, lyrics |
| | "alphabet" | IA | January 26, 2012 | music |
| | "ガラクタのエレジー" | Kagamine Rin | February 29, 2012 | music |
| Niconico piapro | RE-OVERDOSE | Hatsune Miku, Nizimine Kakoi | May 27, 2012 | music, lyrics |
| | "うたをうたうひと" | Hatsune Miku | July 4, 2012 | producer |
| Niconico | 夢のまにまに (Yume no Manimani) | Hatsune Miku | July 30, 2012 | music, lyrics |
| Niconico | オカワリヲドーゾ (Okawari o Doozo) | Hatsune Miku | August 12, 2012 | music, lyrics |
| Niconico | 7から8へ (7 Kara 8 e) | GUMI | October 22, 2012 | music, lyrics |
| | "パレットには君がいっぱい" | Hatsune Miku | November 1, 2012 | music |
| Niconico YouTube | 足あと4つ (Ashiato Yotsu) | Hatsune Miku | December 23, 2012 | lyrics, arrangement, programming |
| Niconico | シティライツ (City Lights) | Kagamine Rin | January 21, 2013 | music, lyrics |
| | "Q" | Kagamine Rin | January 23, 2013 | music, lyrics |
| Niconico | それは、真昼の彗星 (Sore wa, Mahiru no Suisei) | Hatsune Miku | February 23, 2013 | music, lyrics |
| | "3年C組14番窪園チヨコの入閣" | Kagamine Rin Append | March 3, 2013 | music, lyrics |
| Niconico YouTube | MOSAIC | GUMI | September 05, 2013 | music, lyrics |
| Niconico | 嘘ップ (Usoppu) | GUMI, Ario | September 27, 2013 | music, lyrics |
| Niconico YouTube | ピッコーン!! (Pikkoon!!) | Hatsune Miku | September 30, 2013 | music, lyrics |
| Niconico YouTube | 少女A (Shoujo A) | Kagamine Rin | October 17, 2013 | music, lyrics |
| Niconico | 普通に歳をとるコトすら (Futsuu ni Toshi o Toru Koto Sura) | Hatsune Miku | November 10, 2013 | music, lyrics |
| Niconico | かげふみさんは言う (Kagefumi-san wa Iu) | Hatsune Miku | February 11, 2014 | music, lyrics |
| Niconico | nee | Hatsune Miku | February 19, 2014 | music, lyrics |
| Niconico YouTube | Ghosts in the Forest(1UP Suicide remix) | Hatsune Miku | August 13, 2014 | music, lyrics |
| | "ドラッグスコア" | Hatsune Miku | January 28, 2015 | music, lyrics |
| Niconico YouTube | 6畳半の隙間から (6-Jou Han no Sukima kara) | Hatsune Miku | February 13, 2015 | music, lyrics |
| Niconico YouTube | さよーならみなさん (Sayoonara Minasan) | GUMI | March 04, 2015 | music, lyrics |
| | "赤ペンおねがいします" | Hatsune Miku | July 23, 2015 | music, lyrics, illust |
| | "ヘルシーエンド" | Hatsune Miku | September 23, 2015 | music, lyrics |
| Niconico YouTube | とりあえずアナタがいなくなるまえに (Toriaezu Anata ga Inaku Naru Mae ni) | Powapowa-P, Hatsune Miku | July 11, 2019 | music, lyrics |
Albums
Discography
| Affiliation | Title | Featuring | Date | Roles |
| --- | --- | --- | --- | --- |
| KARENT | セピアレコード (Sepia Record) | Hatsune Miku, Megurine Luka, Kagamine Len | November 14, 2010 | music, lyrics |
| PONCOTSU RECORDS | AWARD STROBE HELLO | Hatsune Miku, Kagamine Rin | September 04, 2011 | music, lyrics |
| • | セピアレコード (Remodel) (Sepia Record (Remodel)) | Hatsune Miku, Megurine Luka, Kagamine Len | November 19, 2011 | music, lyrics |
| Gifuken, PONKATSU | "alpa" | Hatsune Miku and Kagamine Rin | February 5, 2012 | producer |
| GINGAbootleg | mousou new world | Hatsune Miku, Kagamine Rin, GUMI, SF-A2 miki | July 08, 2012 | arrangement, illust |
| GINGA | ぽわぽわーくす (Powapoworks) | Hatsune Miku, GUMI, Kagamine Rin, Megurine Luka, Nizimine Kakoi | April 27, 2013 | music, lyrics |
| U/M/A/A | アルターワー・セツナポップ (Alter World Setsuna Pop) | Hatsune Miku, GUMI, Kagamine Rin | October 09, 2013 | music, lyrics |
| U/M/A/A | 生きる (Ikiru) | Hatsune Miku, GUMI, Kagamine Rin | March 4, 2015 | music, lyrics |
| Gifuken, Poncotsu Studio | ポンコツ・オデッセイ (Poncotsu Odyssey) | Hatsune Miku, GUMI, Powapowa-P | April 25, 2015 | music, lyrics, vocals |
| GINGA, U/M/A/A | 故に。 (Yue ni.) | Hatsune Miku, Powapowa-P | July 23, 2019 | music, lyrics, vocals |
| GINGA, U/M/A/A | ぽわぽわーくす - らすと - (Powapoworks - Last -) | Hatsune Miku | July 23, 2019 | music, lyrics, arrangement |
Singles
| Affiliation | Title | Featuring | Date | Roles |
| --- | --- | --- | --- | --- |
| KARENT | STROBE LAST.EP | Hatsune Miku | June 01, 2011 | music, lyrics |
| U/M/A/A | ヘルシーエンド (Healthy End) | Hatsune Miku | May 30, 2019 | music, lyrics |
E.P
| Affiliation | Title | Featuring | Date | Roles |
| --- | --- | --- | --- | --- |
| KARENT | 1,Repeat 2,Sleeping 3,Overdose | Hatsune Miku | December 28, 2011 | music, lyrics |
| GINGA | コケガネのうた (Cokegane no Uta) | Hatsune Miku, GUMI, Kagamine Rin | March 06, 2013 | music, lyrics |
| Independent | 2LINES E.P. | Hatsune Miku, GUMI, Kagamine Rin | July 07, 2013 | music, lyrics |
| Independent | Ghosts in the Forest EP | Hatsune Miku | August 13, 2014 | arrangement |
Compilations
| Affiliation | Title | Featuring | Date | Roles |
| --- | --- | --- | --- | --- |
| bloom | Petal | GUMI, Hatsune Miku, Megurine Luka, Kagamine Rin | May 09, 2010 | music, lyrics |
| Rika Iinkai | Compilation Album 理科室 "酸性盤" (Compilation Album Rikashitsu "Sanseiban") | Hatsune Miku, Megurine Luka, Kagamine Rin, SF-A2 miki | July 19, 2010 | music, lyrics |
| irregular15 | 4≠4 | GUMI, Hatsune Miku, Megurine Luka, Nekomura Iroha, SF-A2 miki | January 16, 2011 | music, lyrics |
| EXIT TUNES | "EXIT TUNES PRESENTS Supernova 5" | Hatsune Miku, Kagamine Rin, GUMI, and Megurine Luka | April 29, 2011 | music, lyrics |
| +one | Sequence | GUMI, Hatsune Miku, SF-A2 miki, Megurine Luka, Kagamine Rin, Nekomura Iroha, Kaai Yuki, Hiyama Kiyoteru, Camui Gackpo, Kasane Teto | June 12, 2012 | music, lyrics |
| • | POP THE 初音ミク | GUMI, Hatsune Miku, Megurine Luka, Kagamine Rin | August 05, 2011 | music, lyrics |
| GINGA | 0001:a galaxy odyssey | Hatsune Miku, Megurine Luka, Kagamine Rin | August 31, 2011 | music, lyrics |
| Avex Trax | "初音ミク -Project DIVA Arcade- Original Song Collection Vol.2" | Hatsune Miku, Kagamine Rin & Len, Megurine Luka, and KAITO | October 26, 2011 | music, lyrics |
| BinaryMixx Records | "V Love 25~Aperios~" | Hatsune Miku, Kagamine Rin & Len, GUMI, Megurine Luka, and VY1 | November 16, 2011 | music, lyrics |
| FARM RECORDS | "VOCAROCK collection 3 feat. 初音ミク" | Hatsune Miku, Kagamine Rin, Megurine Luka, GUMI, and Kagamine Len | December 7, 2011 | music, lyrics |
| BinaryMixx Records | VOCALOID from ニコニコ動画 ボカロ超特急 SUPER EXPRESS COMPILATION 01 | Hatsune Miku, Kagamine Rin & Len, Megurine Luka, KAITO, GUMI | December 21, 2011 | music, lyrics |
| Farm Records | "VOCALO APPEND feat. 初音ミク" | Hatsune Miku, Megurine Luka, Kagamine Rin & Len, GUMI, Kaai Yuki, KAITO | January 11, 2012 | music, lyrics |
| VOCALOID RECORDS, YAMAHA MUSIC COMMUNICATIONS, Inc. | POP★sTAR the VOCALOID | Hatsune Miku, Kagamine Rin, Megurine Luka, and GUMI, Yuzuki Yukari | December 19, 2012 | music, lyrics |
| VOCALOID RECORDS, Yamaha Corporation | Happy Party☆彡 -VOCALOID3 Megpoid(GUMI)- | GUMI | March 14, 2012 | music, lyrics |
| EXIT TUNES | "EXIT TUNES PRESENTS VocaloVanguard feat. 初音ミク slow" | Hatsune Miku and Megurine Luka | July 18, 2012 | music, lyrics |
| U/M/A/A | VRUSH UP! #03 -kous Tribute- | Hatsune Miku, Megurine Luka | November 04, 2012 | music, lyrics |
| • | MiKTRoNicA vol.1 | Hatsune Miku | December 15, 2012 | music, lyrics |
| Sony Music Entertainment Japan | Snow Song Show (album) | Hatsune Miku | December 18, 2012 | music, lyrics |
| • | イニシエーション (Initiation) | Hatsune Miku | December 26, 2012 | music, lyrics |
| 1st PLACE, IA PROJECT, Sony Music Entertainment | "IA/02 -COLOR-" | IA, Hatsune Miku, GUMI, Lily, and SF-A2 miki | January 30, 2013 | music, lyrics |
| GINGA | アポロ (Apollo) | Hatsune Miku | March 30, 2013 | music, lyrics |
| • | MIKU-Pack 04 Song Collection "恋するケータイ" (MIKU-Pack 04 Song Collection "Koisuru Keetai") | Kagamine Rin & Len | November 16, 2013 | music, lyrics |
| U/M/A/A, Sony Music Entertainment Japan | "MIKU-MIXTURE" | Hatsune Miku | February 19, 2014 | music, lyrics |
| • | おみこし -Pinocchiop Tribute Album- | SF-A2 miki, GUMI, Yuzuki Yukari, Kagamine Rin, Hatsune Miku, Kasane Teto | April 26, 2014 | music, lyrics |
| ASCII Media Works | COMIC@LOID 6 | Hatsune Miku, Kagamine Rin | May 13, 2014 | arrangement |
| U/M/A/A | Bitter Little Sweetie | Hatsune Miku, Kagamine Rin | September 15, 2014 | music, lyrics |
| U/M/A/A | EVERGREEN SONGS 2012 | Hatsune Miku, Kagamine Rin | December 24, 2014 | music, lyrics |
| U/M/A/A | EVERGREEN SONGS 2014 | Hatsune Miku, Kagamine Rin & Len | September 30, 2015 | music, lyrics |
| KARENT | "KARENT presents 鏡音リン・レン 10th Anniversary -LODESTAR-" | Kagamine Rin & Len | December 27, 2017 | music, lyrics |
| U/M/A/A | "ピノキオピー BEST ALBUM 2009-2020 「寿」" | Hatsune Miku | March 3, 2021 | arrangement |
Gallery
References