PowerFX Systems AB. is a small recording company based in Stockholm, Sweden. This company has been producing music samples, loops and sound effects since 1995.
About
[
]
PowerFX were first introduced to the software after Zero-G revealed the first Vocaloids at the NAMM trade show (Leon and Lola) and were later recommended to Yamaha by Crypton Future Media. They were the third studio to join Vocaloid production in the VOCALOID era, after Zero-G in late 2002, though they were initially not declared as such. PowerFX did not release any products for the VOCALOID engine, though they were known to have been working on a VOCALOID version of Sweet ANN at the time.
Originally they used an old 20th century movie poster style for boxart with both Sweet ANN and Big AL. Due to fan reaction they would later switch Big AL's artwork to a more western/anime style, prior to his release. PowerFX's Vocaloids were unique in that they were based on monsters of classic horror and science fiction (sometimes fans call their Vocaloids "Monsteroids"/"Monsterloids"). After Big AL's release they stated that they intended to continue this theme for future Vocaloids, and were even considering producing a virtual boy band.[1]
According to Bil Bryant, they chose to do a monster morph-type character design from the beginning. They wanted to create characters for fans to become familiar with, as they believed that this is what fans prefer. They felt it was easier to recognize and sell if they had a comic-esque character design heading the product. Bryant believed that not including a character alienates the product from the fandom.[2]
Unlike Zero-G, PowerFX mostly saw average sales and this had a long term impact on their Vocaloid projects with their Vocaloids never really picking up in sales. Even with the events of Ruby, sales remained unaffected but still not promising. In spite of a backlash from Vocaloid fans over events concerning RUBY, Bil had stated that there would be more Vocaloids planned after her. Most of their consumers were EDM indie musicians.[3]
In 2017, after Bil Bryant left the company, the new PowerFX management has since responded to fan questions that they will not be making any more Vocaloids, with the development of Vocaloids seemingly ending with Bil's departure. Bil's departure is unrelated to Vocaloid and PowerFX are currently focusing on their Soundation product, which has been their main focus since 2013, this was mostly owed to the lacklustre sales of YOHIOloid.[4]
PowerFX were during the VOCALOID2 era considered the smallest of the studios developing Vocaloids and had limited resources to produce them. They likewise had limited resources to promote them. PowerFX were known for their communications difficulties because of some members not being English speakers due to the company being Swedish. The company were at times haphazardly; for example Bil revealed a month and a half to a fan via e-mail VOCALOID4 was incoming before Yamaha even made any official announcements. This caused Wat to react in regards to Megurine Luka V4X, and it became clear why she was being referred to as "New Luka" instead of "Megurine Luka V3", despite having a website for her cancelled V3 version in place.
Prior to their retirement, PowerFX had offered to produce a Vocaloid based on specifications of a 3rd party for $10,000. This was the only known case of a studio to have such a open offer. Despite it being offered, no one came forward to accept this.
Key people
[
]
Anders Södergren was a developer. For VOCALOID3 he also asked the English Vocaloid fans for their input into the development of the Vocaloid software. He took notes on the fan feedback to Yamaha themselves. He was also interested in suggestions for new Vocaloids and Vocaloid vocal types, as well as any other suggestions regarding current and future Vocaloids.

In 2011 he helped develop OLIVER directly. He also had a hand in founding and bringing VocaTone together by supplying them with advice on how to enter the Vocaloid business. He acted as head programmer for Vocatone as stated on their website.

He is an independent representative who works for both PowerFX and Zero-G. He acts as a feedback and information relay between the English Vocaloid fandom and the English Vocaloid studios. He would use the Vocaloid Otaku forums specifically to aid him and would answer any questions on English Vocaloids themselves.

Bil Bryant worked in production and was CEO of PowerFX, and Notable for VOCALOID Production. Bryant moved on from PowerFX circa 2017.[5]
Voicebanks
[
]
VOCALOID2
[
]
VOCALOID3
[
]
VOCALOID4
[
]
Promotional involvement
[
]
MySpace
[
]
Sweet ANN was originally given a MySpace page as part of promotion for her.
MusikMesse fair
[
]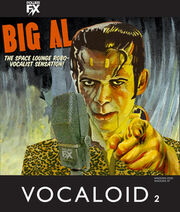 The first song demo using Big-AL, "Make Me Feel", was prepared by Alexei Ustinov for the Frankfurt MusikMesse 2007 fair.
Sweet Ann boxart competition
[
]
After the much welcomed improved artwork of Big-AL, there were talks of a competition to design a new artwork for Sweet ANN.[6][7] This however, never came to fruition.
Fan feedback
[
]
They were also one of two studios that supported Vocaloid Otaku forums which they used for fan feedback, the other studio at the time being Zero-G.
YOHIO Vocaloid boxart competition
[
]
PowerFX and VocaTone held a competition for the package design of their Vocaloid YOHIOloid. The winner was Sartika3091.
References
[
]
External links
[
]
[

]
Companies

Primary
Subsidiary
Additional
Independents
Yamaha Corporation