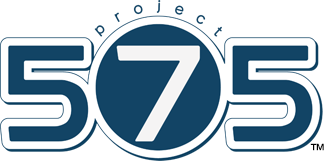 Project 575 is a crossmedia VOCALOID-powered franchise by SEGA.
The idea behind Project 575 was to create a way of forming songs to share online.[1]
As part of the promotional campaign, it was revealed several people related with the VOCALOID stage participated in the project. Aside the participation of the illustrator and trance producer, Hiro Kanzaki, various producers participated, composing the songs included in the game.
The franchise is set in Kamakura , a city which was said to be the unofficial capital of Japan a long time ago. The plot behind the series is described as: A group of schoolgirls, bored of the daily routine, decide to perform songs in a haiku-esque format; and share them across the net (the concept itself being similar to the utaite and odorite fandoms).
Characters
Edit
The franchise consists of two main characters, Matcha and Azuki, and two side characters Koume and Yuzu.
The voicebanks of Azuki and Matcha were originally exclusive to video games released as part of the franchise, and were utilized in different features that needed VOCALOID's realtime synthesis.
Updated voicebanks of Azuki and Matcha were commercially released for the VOCALOID4 engine in July 2017, with no prior public announcement.
The side characters introduced in the series, Yuzu and Koume, do not have voicebanks, and no announcement has been made specifying a future release.
Main article: Project 575/Characters
Marketing
Edit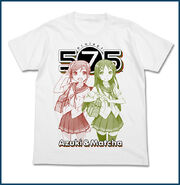 Merchandise
Edit
Various merchandise for the Project include apparel, accessories, and figures.
Literature
Edit
A manga and novel was announced for Project 575. More info on the manga will come soon as it is unveiled.
The Go! Go! 575 page also features comics of the girls.[2]
Discography
Edit
Matcha and Azuki are featured on two album releases.
Main articles: Kotoba Karafuru and Uta Yui 575
575 Utayomi
Edit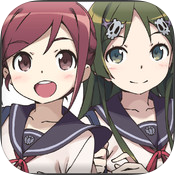 うた詠み575 (575 Utayomi), translated as Song Reader 575, was an iOS app which was released on the 26th July, 2013 and holds the lite version of the VOCALOID software.
The game was classified as a word communication tool, allowing you to compose the lyrics for the different pre-established melodies available within the game in a haiku format. The game also included the option to interact with the characters in different events and had an augmented reality photography option, which included the possibility to change pose and the attire of the girls.[3][4]
On July 18, 2014 the app was taken off the iTunes store and support was terminated.
Uta Kumi 575
Edit
Uta Kumi 575 (うた組み575), translated as Song Builder 575, is a game for the PS Vita that was released on the 23rd Jan, 2014. It is a rhythm game that allows users to input their own lyrics into the songs.
Main article: Uta Kumi 575
Miracle Girls Festival
Edit
Miracle Girls Festival is a game for the PlayStation Vita that was released in Japan on December 17, 2015. It is a crossover rhythm game developed by SEGA. The game features characters and songs from the anime series, Go! Go! 575, and other Japanese anime series.
GO! GO! 575 is an anime released on January 9, 2014 for TOKIO MX and January 12 for tvk. The anime consists in a series of 3 minute animated shorts featuring both of the protagonists along with a new character to the series; Yosano Yuzu. On 10 March 2014 an announcement was made that a 5th episode was being produced with another new character for the series; Ono Koume.[5]
"

アニメ『GO!GO!575』予告編(その1)

" by SEGA ft. n/a
Niconico
Screencap
Title
Translated
Episode - Airdate
この街全部、抱きしめて。(Kono Machi Zenbu, Dakishimete.)
Embrace This Entire Town
Episode 01 - 9th, January, 2014
A restless Azuki decides she wants to be more "wild". After reading a poster with a haiku written on it Azuki wishes to sing with Matcha in haiku, which Matcha agrees to. They end the episode in a bath house after being soaked in the rain.
制服もまた、ずぶ濡れで。 (Seifuku mo Mata, Zubunure de.)
My Uniform Is Soaking, Just Like The Last Time.
Episode 02 - 17th Jan, 2014
As the girls try to get ideas for 5-7-5, Azuki decides they should go to a crepe shop, even though Matcha is scared to go past a particular pond she claims is full of evil spirits. After chasing down a cat both girls get wet and yet again end up in a bath house. Meanwhile, Yuzu seems to be keeping a watchful eye on the girls.
きゃっきゃうふふで、いただきます。(Kyakkyaufufude, Itadakimasu.)
Heh Heh Heh Hee Hee Hee Hee, Thank You For Sharing.
Episode 03 - 24th Jan, 2014
After days of watching the girls, Yuzu finally gathers up enough courage to ask to join to their 5-7-5 idea. However as she spends time with the girls, it's difficult for her avoid fantasizing about how "intimate" her classmates are. Yet again the episode ends in a bath house, which doesn't help Yuzu's imagination.
コトノハにのせ、つたえたい。(Kotonoha ni Nose, Tsutaetai.)
Through Words, I Want To Tell Everyone
Episode 04 - 31st Jan, 2014
While the girls were practicing on the roof of their school, Yuzu suggests that they put their dance up on the web. After uploading it Yuzu shows a song her friend wrote after seeing the two girls dance. Matcha and Azuki then perform the song and dance for the internet to view.
めいっぱいに、はじけてる? (Me-ippai ni, Hajiketeru?)
Are You Living Life Fully, The Best That You Can?
Episode 05
22st Oct, 2014 (DVD release)[6]
The group are eating some ice cream along the newest member of the crew, as they remember how awkwardly introduced herself offering her help with the 5-7-5 project. After that the girls go to a park near the coast to discuss what to do for their debut and spend the time, however Koume gets distracted and ends completely soaked. As usual, the girls end in the bath house, and Yuzu makes one of her "typical" suggestions, which Koume agrees much to the confusion of Azuki and Matcha.
References
Edit
External links
Edit
Sites
Channels
SEGA

Vocals
VOCALOID2
VOCALOID4
Providers

Miscellaneous
Community content is available under
CC-BY-SA
unless otherwise noted.