"Re:package" is livetune's first album. The first shipment of albums sold out almost immediately. It was re-released in 2010 as a Super High Material CD, where it reached #2 on the Oricon Daily Charts, sold 20,000 copies in the first week, and reached #5 as a whole. As with all albums by livetune, Re:package's entire song list is ElectroPop, with the exception of "Hibi no Yume Omoi" which is of the J-Pop genre.
Instead of a regular lyric booklet, it spreads out to become a poster of Hatsune Miku.
While there are two editions of the CD (standard and limited) the content (i.e. music) of the CD is not changed. The limited edition's jacket is holographic, and messages from Saki Fujita and Hideki Iwase (USEN's program producer) are on one side of the jacket.
It solely features Hatsune Miku.
The re-release has re-ordered tracks, some of which were new at the time. They are listed that way.
!
This template is being deprecated and being replaced.

To make this notice disappear, please replace the concerned template by the replacement one(s).

Replacement template(s) is/are: Album box and Track listing.

!
Original track order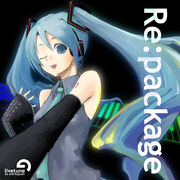 Anthem
over16bit!
シューティング☆スター (Shooting☆Star)
椛 (Momiji)
Packaged
虹色 (Nijiiro / Rainbow-Colored)
リラホルン (Lilachorn / Lilac Horn)
日々の夢想い (Hibi no Yume Omoi / Daily Dream Thoughts)
ファインダー (finder)
ドキドキ♪ハートチューン (Dokidoki♪Heart Tune / Heart Pounding♪Heart Tune)
ストロボナイツ (STROBO NIGHTS)
Packaged (piano ver.)