💻

Technology article work in progress.
For information on how to help, see the guidelines.  More subjects categorized here.

💻
Realivox is a vocal synthesizer by Realitone.
There are two software packages for Realivox entitled The Ladies and Blue. The software used to run the voices are powered by the Kontakt which has a full version which goes by the same name, or Kontakt Player which is free but comes with less features. Kontakt runs on Windows and Mac meaning that Realivox does as well.
The Ladies
Edit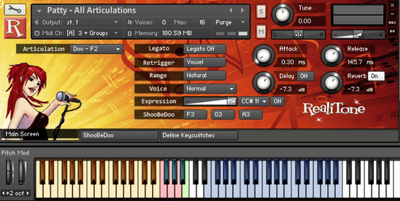 The Ladies consist of 5 vocals :
Cheryl; A voice described as airy and pretty that is perfect for ethereal film cues.
Teresa; Described as a Soprano opera diva.
Patty; A voice suited for pop and ethnic music.
Julie; For full range songs.
Toni; For smooth R'n'B songs.
The voices have 30 multi-sampled articulations, being Oo, Ah, Ee, Oh, Ey, Hmm, Mmm, La, Bah, Bee, Boh, Boo, Buh, Bop, Bow, Bah Fall, Dah, Dee, Doh, Doo, Duh, Boom, Bom, Hey, Ha, Ho, Hoo, Me, Shoo, and Yeah. On top of that the voices have true sampled legato. These voices can also be stacked to create choirs as well as solos.
The Ladies software comes with Kontakt Player in it's installation.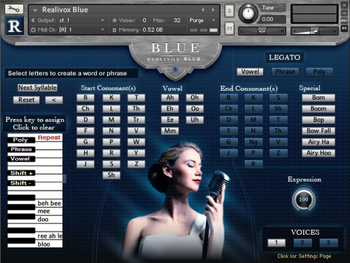 Blue comes with a single voice that comes with 12,000 vocal samples. Each of the six vowels has thirty-two samples accompanying it. This is because when pronouncing different consonants before or at the end of different vowels, the mouth will open and close differently based off of what vowel has been pronounced. This reduces the amount of incorrectly sounding pronunciations and replicates sung English more accurately.
Like with The Ladies, Blue also has true sampled legato, but it also has polyphonic legato.
There is also an Ensemble Mode which allows the user to switch between 3 voices that comes with the package without the need to switch between tracks. This comes with settings for volume, pan, tuning, timbre and offset for each voice that is activated.
Blue produces a crystal clear sound.[1]
References
Edit
Technology directory

VOCALOID technology

Engine

Derivatives

Support

Hardware

Synthesizer software
Miscellaneous
Community content is available under
CC-BY-SA
unless otherwise noted.