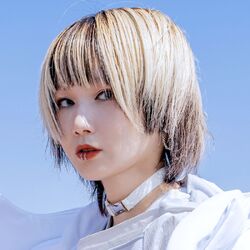 Affiliations
[
]
External links
[
]
Official
[
]
Unofficial
[
]
Reol (れをる), born November 09, 1993, is a Japanese singer-songwriter.
Reol embarked on music production around 2012, active as an utaite at the time. She, Giga-P and movie director Okiku would consistently work together to publish successful VOCALOID works, and later on, an album in 2014. Subsequently, the trio went on to form a unit known as RΞOL under the label Toy's Factory. RΞOL announced their disbandment on October 2017.[1]
Afterwards, the trio would join together to create Rettou Joutou, the theme song for Kagamine Rin & Len in Hatsune Miku Magical Mirai 2018. As of current, Reol is active in the role of a solo artist, and frequently collaborates with Giga-P.
Works
[
]
| Links | Title | Featuring | Date | Roles |
| --- | --- | --- | --- | --- |
| | "ギガンティックO.T.N" | Kagamine Len | December 8, 2012 | lyrics |
| | "cLick cRack" | Kagamine Len, Kagamine Rin, GUMI, Hatsune Miku, and Megurine Luka | July 21, 2013 | lyrics |
| | "おこちゃま戦争" | Kagamine Rin and Kagamine Len | November 29, 2013 | lyrics |
| | "LUVORATORRRRRY!" | GUMI and Kagamine Rin | February 22, 2014 | lyrics |
| | "+♂" | Kagamine Len | March 20, 2014 | lyrics |
| | "被害妄想携帯女子(笑)" | GUMI | April 1, 2014 | |
| | "アンデッドエネミー" | Kagamine Rin | June 20, 2014 | |
| | "drop pop candy" | Kagamine Rin and Megurine Luka | July 18, 2014 | lyrics |
| | "ヒビカセ" | Hatsune Miku | September 23, 2014 | lyrics |
| | "劣等上等" | Kagamine Len and Kagamine Rin | July 13, 2018 | lyrics |
Albums
[
]
Discography
[
]
| Affiliation | Title | Featuring | Date | Roles |
| --- | --- | --- | --- | --- |
| Dwango User Entertainment, Inc. | ぎがばなな ざ べすと ~USUSHIO味~ (Gigabanana the Best ~USUSHIO Aji~) | GUMI, IA, Hatsune Miku, Kagamine Rin & Len, Megurine Luka | July 24, 2013 | lyrics |
| Celo Project | No title+ | GUMI, KAITO, KYO, Hatsune Miku, Megurine Luka, Kagamine Rin & Len | August 17, 2014 | lyrics |
Compilations
[
]
| Affiliation | Title | Featuring | Date | Roles |
| --- | --- | --- | --- | --- |
| EXIT TUNES | "EXIT TUNES PRESENTS Vocalosensation feat. 初音ミク" | Hatsune Miku, GUMI, Kagamine Rin, Megurine Luka, Kagamine Len, IA, Camui Gackpo, MEIKO, KAITO, MAYU, and Lily | February 20, 2013 | lyrics |
| EXIT TUNES | "EXIT TUNES PRESENTS Vocalospace feat. 初音ミク" | Hatsune Miku, GUMI, Kagamine Len, Megurine Luka, Kagamine Rin, MEIKO, MAYU, IA, Camui Gackpo, and KAITO | September 3, 2014 | lyrics |
| Warner Music Group (Japan) | "Download feat. 初音ミク" | Hatsune Miku, Kagamine Rin, Kagamine Len, Megurine Luka, GUMI, Kasane Teto, MEIKO, and KAITO | December 10, 2014 | lyrics |
| Sony Music Entertainment | ""初音ミク Project DIVA X -Complete Collection-"" | Hatsune Miku, Kagamine Rin, Kagamine Len, Megurine Luka, MEIKO, KAITO | June 8, 2016 | lyrics |
| KarenT | 初音ミク「マジカルミライ 2016」OFFICIAL ALBUM (Hatsune Miku "Magical Mirai 2016" OFFICIAL ALBUM) | Hatsune Miku, KAITO, MEIKO, Kagamine Rin & Len, Megurine Luka | August 03, 2016 | lyrics |
| KARENT | "初音ミク「マジカルミライ 2018」OFFICIAL ALBUM" | Hatsune Miku, Kagamine Rin & Len, Megurine Luka, KAITO, and MEIKO | July 25, 2018 | music |
Gallery
[
]
References
[
]