🛠

This subject is work in progress. What is being worked on: Translation needed for the origin of his producer name.
Please bear with us while improvements are being made and assume good faith until the edits are complete.
For information on how to help, see the guidelines. More subjects categorized here.

🛠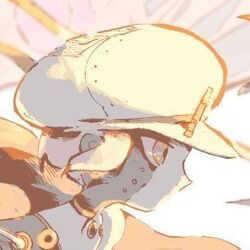 Affiliations
[
]
External links
[
]
Official
[
]
Unofficial
[
]
sasakure.UK, also known as sasakureP (ささくれP), is an experienced producer of VOCALOID songs and BMS (Be-Music Script). He skillfully draws and animates many of his videos.
A notable series of his, the Doomsday Series, consists of songs that show the gradual destruction of earth and humanity due to a war.
In mid-2011, sasakure.UK produced a song for the game 7th Dragon 2020 using Hatsune Miku (who was making an appearance in the game) called "SeventH-HeaveN." He also made the opening for the sequel, 7th Dragon 2020-II, called "HeavenZ-ArmZ."
sasakure.UK was born on February 11[1], in Fukushima, Japan[2].
Regarding the origin of his producer name, he commented: "福島出身で空っ風で指にささくれができるんです". The letter "U" means "underground", and "K" is an acronym for his real name.[3]
Works
[
]
| Links | Title | Featuring | Date | Roles |
| --- | --- | --- | --- | --- |
| • | PICO@LUV (☆彡とvとAIのウタ。) (PICO@LUV (☆彡 to v to AI no Uta.)) | Hatsune Miku | December 12, 2007 | music, lyrics |
| | "モバイリ:センセーション" | Kagamine Rin | February 9, 2008 | producer |
| • | はるのはるか (Haru no Haruka) | Hatsune Miku | April 09, 2008 | music, lyrics |
| | "ニジイロ*アドベンチュア" | Hatsune Miku | May 17, 2008 | music, lyrics, video |
| • | アドレッセンチメートル (Adolesentimental) | Hatsune Miku | August 09, 2008 | music, lyrics |
| | "*ハロー、プラネット。" | Hatsune Miku | May 24, 2009 | music, lyrics, illust, video |
| | "ワンダーラスト" | Megurine Luka | February 2, 2009 | producer |
| | "ぼくらの16bit戦争" | GUMI | July 12, 2009 | music, lyrics |
| | "カムパネルラ" | GUMI | October 28, 2009 | music, lyrics |
| | "ウタカタ永焔鳥" | Hatsune Miku Dark Beta | March 3, 2010 | music, lyrics |
| None | "*サヨナラ、ワールドエンド。" | Hatsune Miku vivid-β, Hatsune Miku very small-β | March 3, 2010 (album release date) | music, lyrics |
| | "しゅうまつがやってくる!" | Kagamine Rin | June 4, 2010 | music, lyrics |
| • | ロストエンファウンド (Lost and Found) | Hatsune Miku | July 08, 2010 | music, lyrics |
| | "タイガーランペイジ" | Kagamine Rin | August 5, 2010 | music, lyrics |
| • | ナキムシピッポ (Nakimushi Pippo) | Hatsune Miku | August 12, 2010 | music, lyrics |
| | "ガラクタ姫とアポストロフ" | Hatsune Miku | May 13, 2011 | music, lyrics, movie |
| | "My Soul, Your Beats!" | IA | January 27, 2012 | producer |
| | "否世界ハーモナイゼ" | Kagamine Rin | April 16, 2012 | music, lyrics, video |
| | "39" | Hatsune Miku | July 27, 2012 | music, arrangement, programming, tuning |
| | "Snow Song Show" | Hatsune Miku | December 12, 2012 | music, arrangement, mixing, synthesizer, programming |
| • | HeavenZ-ÅrmZ | Hatsune Miku | January 17, 2013 | music, lyrics |
| • | アオゾラハルサイト (Aozora Haru Sight) | Hatsune Miku | March 15, 2013 | music, arrangement, synthesizer, programming |
| | "蜘蛛糸モノポリー" | Hatsune Miku | April 16, 2013 | music, lyrics, video director, arrangement |
| | "トゥイー・ボックスの人形劇場" | Hatsune Miku | May 1, 2013 | music, lyrics, illust |
| | "ツギハギエデン" | GUMI Whisper | June 5, 2013 | music, etc |
| | "ネガポジ*コンティニューズ" | Hatsune Miku | August 03, 2013 | music, lyrics |
| | "アンチグラビティーズ" | GUMI | July 29, 2014 | music, lyrics |
| | "tig-hug" | GUMI | October 14, 2014 | music, lyrics |
| • | ポンコツディストーカー (Ponkotsu Dystalker) | IA | December 02, 2015 | music, lyrics |
| | "figure." | Hatsune Miku V4X Solid | August 26, 2016 | producer |
| | "ぼくらの16bitエンズ・トリガー" | GUMI | November 2, 2016 | music, lyrics, video |
| • | スマートを模索する (Smart o Mosakusuru) | Hatsune Miku | December 29, 2016 | music, lyrics |
| • | quiz | Hatsune Miku | March 17, 2017 | music, lyrics |
| • | 或る街のギギ (Aru Machi no Gigi) | Hatsune Miku | August 15, 2017 | music, lyrics |
| • | S∀MPLING MΘNSTER | Hatsune Miku | August 29, 2017 | music, lyrics |
| • | 阿呆なるものは (Aho Naru Mono wa) | Hatsune Miku | February 17, 2018 | music, lyrics |
| | "ワンダーラスト (2019: A Self Odyssey)" | Megurine Luka | February 2, 2019 | producer |
| • | 詠と英知 (A to H) | GUMI | June 20, 2019 | music, lyrics |
| | "*ハロー、プラネット。" | Hatsune Miku | May 24, 2019 | music, lyrics |
| • | レプリカ (Replica) | Hatsune Miku | September 10, 2019 | music, lyrics |
| • | エゴ (Ego) | Hatsune Miku | December 28, 2019 | music, lyrics |
| • | QUI | Hatsune Miku | January 17, 2020 | music, lyrics |
| • | キマイラ (Chimera) | Hatsune Miku | June 02, 2020 | music, lyrics |
| • | トーチカ (Tochka) | Hatsune Miku | September 19, 2020 | music, lyrics |
| | "トンデモワンダーズ" | Hatsune Miku and KAITO | June 19, 2021 | music, lyrics |
| • | ディカダンス (Decadence) | Hatsune Miku | December 30, 2021 | music, lyrics |
Albums
[
]
Discography
[
]
| Affiliation | Title | Featuring | Date | Roles |
| --- | --- | --- | --- | --- |
| SASAKURATION | Kaleido*MIXture | Hatsune Miku, Kagamine Rin | August 14, 2008 | music, lyrics |
| SASAKURATION | ラララ終末論。 (Lalala Shuumatsu-ron.) | Hatsune Miku, Megurine Luka, GUMI, Kagamine Rin | August 15, 2009 | music, lyrics |
| Yuya. | ビビッドカラー・ビューティフルカンバス (Vivid Color, Beautiful Canvas) | Hatsune Miku, GUMI, Kagamine Rin | December 30, 2009 | arrangement |
| U/M/A/A | ボーカロイドは終末鳥の夢をみるか? (Vocaloid wa Shuumatsudori no Yume o Miru ka?) | Hatsune Miku, Megurine Luka, Kagamine Rin, GUMI | March 03, 2010 | music, lyrics |
| U/M/A/A | 相愛性理論 (Sou Ai Sei Ri Ron) (album) | Hatsune Miku, Topi | April 21, 2010 | arrangement |
| Poppy Studio, SASAKURATION | *ハロー、終末シネカメラ。 (*Hello, Shuumatsu Cine-camera.) | Hatsune Miku, GUMI, Kagamine Rin, Megurine Luka | March 05, 2010 | music, lyrics |
| U/M/A/A | 相愛性理論 (Sou Ai Sei Ri Ron) | Hatsune Miku | April 21, 2010 | arrangement |
| SASAKURATION | プロトタイプ ナナクジャク (Prototype Nana Kujaku) | Hatsune Miku, GUMI, Kagamine Rin, Megurine Luka | August 31, 2010 | music, lyrics |
| U/M/A/A | 機械の花ラボラトリ (Kikai no Hana Laboratory) | Hatsune Miku | June 22, 2011 | arrangement |
| SASAKURATION | ガラクタ姫とアポストロフ (Garakuta Hime to Apostrophe) (album) | Hatsune Miku | June 22, 2011 | music, lyrics |
| U/M/A/A | 幻実アイソーポス (Genjitsu Aesop) | Hatsune Miku, Kagamine Rin, Megurine Luka | April 11, 2012 | music, lyrics |
| Independent | Story Teller | Hatsune Miku, Kagamine Rin & Len, Megurine Luka, GUMI | August 11, 2012 | arrangement |
| U/M/A/A | トンデモ未来空奏図 (Tondemo Mirai Kuusouzu) | Hatsune Miku, GUMI | May 29, 2013 | music, lyrics |
| U/M/A/A | 恋するデッサン人形 (Koisuru Dessan Ningyou) | GUMI | July 09, 2014 | music, lyrics |
| Lastrum | REBUILD | Hatsune Miku, GUMI | September 17, 2014 | arrangement |
| U/M/A/A | 摩訶摩謌モノモノシー (Makamaka Monomonosy) | GUMI, IA, Kasane Teto, lasah, Perio | December 17, 2014 | music, lyrics |
| U/M/A/A | 不謌思戯モノユカシー (Fukashigi Monoyukasy) | GUMI, IA | December 02, 2015 | music, lyrics |
| SASAKURATION | エルゴスム (ergosum) | Hatsune Miku | December 31, 2019 | music, lyrics |
Compilations
[
]
| Affiliation | Title | Featuring | Date | Roles |
| --- | --- | --- | --- | --- |
| k-shi studio | "DEBUTANTE" | Hatsune Miku, Kagamine Rin, KAITO, MEIKO, Mami Momoki, Haruyo, Milia, and sick | May 11, 2008 | music, lyrics |
| k-shi studio | "DEBUTANTE2" | Hatsune Miku, Kagamine Len, Kagamine Rin, KAITO, and MEIKO | September 23, 2008 | music, lyrics |
| k-shi studio | "DEBUTANTE3" | Hatsune Miku, Kagamine Rin & Len, KAITO, MEIKO | December 29, 2008 | music, lyrics |
| LOiD | LOiD-01-LOiD's LOGiC- | GUMI, Hatsune Miku, Megurine Luka | July 8, 2009 | music, lyrics |
| k-shi studio | "DEBUTANTE4" | Kagamine Rin & Len, Hatsune Miku, Megurine Luka, GUMI, MEIKO, and KAITO | August 15, 2009 | music, lyrics |
| EXIT TUNES | "EXIT TUNES PRESENTS STARDOM 2" | Hatsune Miku, Kagamine Len, Kagamine Rin, Megurine Luka, Korosuke, Yanagi Mami, Meramipop, Team.Nekokan | August 19, 2009 | music, lyrics |
| HEARTFAST | "VOCALOIDS☆X'mas ~白い夜は静寂を守ってる~" | SF-A2 miki, GUMI, Megurine Luka, Hatsune Miku, Kagamine Rin | November 18, 2009 | music, lyrics |
| You kNow Me? | "JBF RemixAlbum" | Megurine Luka and Kagamine Rin | December 30, 2009 | arrangement |
| BinaryMixx Records and Sony Music Direct | "初音ミクDVD ~impacts~" | Hatsune Miku | February 10, 2010 | music, lyrics |
| BinaryMixx Records | "VOCALOID BEST from ニコニコ動画 (あお)" | Hatsune Miku, Kagamine Rin & Len, GUMI, Megurine Luka, and KAITO | June 22, 2011 | music, lyrics |
| Independent | POP THE 初音ミク | GUMI, Hatsune Miku, Megurine Luka, Kagamine Rin | August 05, 2011 | music, lyrics |
| Sony Music Direct | "初音ミク -Project DIVA- extend Complete Collection" | Hatsune Miku, Kagamine Rin & Len, Megurine Luka, KAITO, and MEIKO | November 9, 2011 | music, lyrics |
| 1st PLACE Co., Ltd., queens label | "IA/00" | IA | December 29, 2011 | music, lyrics |
| avex Marketing | "100%GUMI宣言! -Megpoid VIDEO CLIP COLLECTION + LIVE" | GUMI and Akikoloid-chan | March 14, 2012 | music, lyrics |
| 1st PLACE | "IA/01 -BIRTH-" | IA | April 25, 2012 | music, lyrics |
| U/M/A/A | VRUSH UP! #02 -DECO*27 Tribute- | GUMI, Hatsune Miku | July 08, 2012 | arrangement |
| BinaryMixx Records and Sony Music Direct | "初音ミク 5thバースデー ベスト ~impacts~" | Hatsune Miku, Kagamine Rin & Len, GUMI, Megurine Luka, KAITO, and MEIKO | August 1, 2012 | music, lyrics |
| Dwango User Entertainment, Inc., Sony Music Direct | "初音ミク 5thバースデー ベスト ~memories~" | Hatsune Miku, Kagamine Len, Kagamine Rin, Megurine Luka, KAITO, and MEIKO | August 1, 2012 | music, lyrics |
| U/M/A/A | VRUSH UP! #03 -kous Tribute- | Megurine Luka, Hatsune Miku | November 04, 2012 | arrangement |
| U/M/A/A | VRUSH UP! #04 -millstones Tribute- | GUMI, Hatsune Miku | December 15, 2012 | arrangement |
| • | Snow Song Show (album) | Hatsune Miku | December 18, 2012 | music, lyrics |
| TEAM Entertainment | "vocantabile ~storia~" | Hatsune Miku, Kagamine Rin & Len, Megurine Luka | January 30, 2013 | music, lyrics |
| Sony Music Entertainment Japan | 初音ミク-Project DIVA-F Complete Collection | Hatsune Miku, Kagamine Rin & Len, Megurine Luka, KAITO, MEIKO | March 06, 2013 | music, lyrics |
| U/M/A/A | セブンスドラゴン2020 & 2020-II 初音ミク・アレンジトラックス (7th Dragon 2020 & 2020-II Hatsune Miku Arrange Tracks) | Hatsune Miku | July 24, 2013 | music, lyrics |
| Sony Music Direct | "初音ミク -Project DIVA- F Complete Collection" | Hatsune Miku, Kagamine Len, Kagamine Rin, Megurine Luka, KAITO, and MEIKO | March 6, 2013 | music, lyrics |
| U/M/A/A | COMING DAYS | Hatsune Miku | September 03, 2013 | music, lyrics |
| Sony Music Entertainment Japan | "VOCA NICO☆PARTY" | Hatsune Miku, Kagamine Len, Kagamine Rin, GUMI, Megurine Luka, IA, KAITO, MEIKO, Yuzuki Yukari, Lily, and VY2 | December 25, 2013 | music, lyrics |
| U/M/A/A, Sony Music Entertainment Japan | "MIKU-MIXTURE" | Hatsune Miku | February 19, 2014 | music, lyrics |
| VOCALOID RECORDS, YAMAHA MUSIC COMMUNICATIONS, Inc. | 踊ボカ!! ~踊ってみたセレクション~ (Odori Voca!! ~Odottemita Selection~) | Hatsune Miku, Megurine Luka, Kagamine Rin & Len, GUMI, IA | March 12, 2014 | music, lyrics |
| U/M/A/A | VRUSH UP! #07 –siinamota Tribute- | GUMI, Hatsune Miku, Kagamine Rin | April 26, 2014 | arrangement |
| U/M/A/A | Memories of GUMI 2009-2013 feat. Megpoid 上巻 | GUMI | June 26, 2014 | arrangement |
| KARENT | "初音ミク「マジカルミライ 2014」オフィシャルアルバム" | Hatsune Miku, Kagamine Len, Kagamine Rin, Megurine Luka, MEIKO, and KAITO | August 6, 2014 | music, lyrics |
| Sony Music Entertainment Japan | 初音ミク Thank you 1826 Days ~SEGA feat. HATSUNE MIKU Project 5th Anniversary Selection~ | Hatsune Miku | September 17, 2014 | music, lyrics |
| U/M/A/A | "EVERGREEN SONGS 2013" | Hatsune Miku | December 24, 2014 | music, lyrics |
| U/M/A/A | "VOCALOID Masterpiece Collections feat. GUMI 09-11" | GUMI | June 26, 2015 | music, lyrics |
| U/M/A/A | "VOCALOID Masterpiece Collections feat. GUMI 12-14" | GUMI | June 26, 2015 | music, lyrics |
| U/M/A/A | "初音ミク Project mirai こんぷり~と" | Hatsune Miku, Kagamine Rin & Len, GUMI, Megurine Luka, KAITO, and MEIKO | September 2, 2015 | music, lyrics |
| Dwango User Entertainment, Inc., U&R records | "Re:Start" | Hatsune Miku, Kagamine Len, Kagamine Rin, GUMI, Megurine Luka, KAITO, and MEIKO | August 30, 2017 | music, lyrics |
| EXIT TUNES | "EXIT TUNES PRESENTS Vocaloseasons feat. 初音ミク ~Winter~" | Hatsune Miku, GUMI, Kagamine Len, Megurine Luka, Kagamine Rin, Camui Gackpo, KAITO, IA, MAYU, and MEIKO | January 17, 2018 | music, lyrics |
| KARENT | "巡音ルカ 10th Anniversary - Fabulous∞Melody -" | Megurine Luka | January 30, 2019 | music, lyrics |
| Gakken Plus | ボカロで覚える高校英単語 (Vocalo de Oboeru Koukou Eitango) | GUMI, CYBER SONGMAN, Hatsune Miku, Camui Gackpo, Megurine Luka, Kagamine Rin & Len | February 19, 2019 | music, lyrics |
| EXIT TUNES | "EXIT TUNES PRESENTS GUMIssimo from Megpoid ―10th ANNIVERSARY BEST―" | GUMI | June 19, 2019 | music, lyrics |
| U/M/A/A | "ピノキオピー BEST ALBUM 2009-2020 「寿」" | Hatsune Miku | March 3, 2021 | arrangement |
| KARENT | "初音ミク「マジカルミライ」10th Anniversary OFFICIAL ALBUM" | Hatsune Miku, Kagamine Rin, Kagamine Len, Megurine Luka, KAITO, and MEIKO | July 20, 2022 | music, lyrics |
Gallery
[
]
External links
[
]
Interviews
[
]
References
[
]