💻

This subject is technology work in progress.
For information on how to help, see the guidelines.  More subjects categorized here.

💻
Synthesizer V (commonly shortened to SynthV) is a vocal synthesizer created and developed by Dreamtonics, Co. Ltd. It is currently available on both Windows and Linux systems. The software is available in English, Japanese, Chinese and Korean. The engine was fully released on December 28, 2018.
It was first previewed in 2017. According to the developers, the project is a product of 7 years of work and is the fifth revision.
It was made available for download in 2018 with the first vocal "Eleanor Forte", downloadable for free. Chinese and Japanese vocals are in production. More languages and dialects are planned.
On December 28, 2018 the engine got fully released with the possibility to register three vocals for free, and it also became possible to purchase a permanent license for the engine.
Product Information
Edit
Demonstrations
Edit
Vocalists
Edit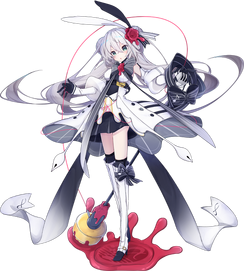 Eleanor Forte エレノア フォルテ(formerly known as ENG-F1) was the first American English vocal and the first vocal overall to be released for Synthesizer V. Her first name, "Eleanor", has the meaning of light or bright with a sense of nobility, and her last name, "Forte", has the meaning of strength and references the musical dynamic, forte, which literally translates to loud.

The sealing wax and tied ribbon on the design are inspired by hand-written letters. The thread around her pinky is inspired by the red thread of fate, that indicates that if two people are connected by a red thread they are destined to meet each other. Her dress is inspired by dip-pens.

Despite being a virtual singer, Eleanor has an interest in antiques. She is described to be honest, endeavoring, and to have an unwavering sense of morality.
---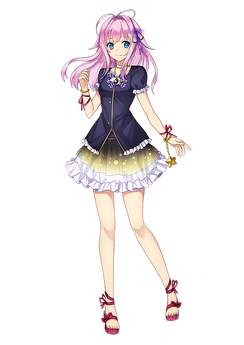 Yamine Renri 闇音レンリ is a Japanese female vocal released previously for UTAU. She has since been released for Synthesizer V. Her download can be obtained from her own Japanese website and the Synthesizer V website downloads.[1]

Yamine Renri is still at testing stages and is not up to standard with Eleanor Forte and AiKO.
---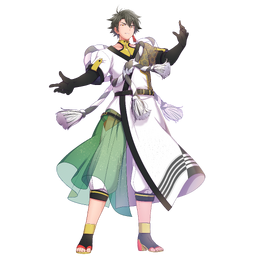 Genbu ゲンブ is a Japanese male vocal and the first male vocal released for the program. He may seem a bit straightforward, to the point of being called rude, however he cares about the people around him. His voice is supposed to represent his personality: calm, soothing, and somewhat weak.

Genbu is still at testing stages and is not up to standard with Eleanor Forte and AiKO.
---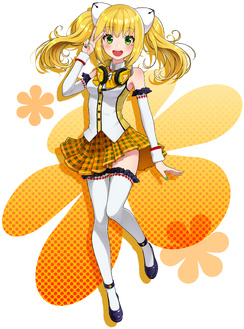 AiKO 艾可 is a female Chinese voice and the first Chinese voice released for the program. AiKO is an enthusiastic girl. She tends to be careless but won't let tough times get her down. She always happy to make progress, no matter how small. She is a hard worker and likes to wear her work clothes.

She has four main attires. A maid one, a digital one, a "preach"(missionary) one, and a performer one.

The headwear in general has a dip pen inspired design, however her main, "preach", and performer attires' headwear is be able to hold a lot of data, has Wifi and optical fibers in it, a USB can also be inserted into it. The headwear of the digital attire has a wider range and can search for bugs as well as send stronger signals.

The bow on her maid and performer attires has an "A" on it representing Animen, the company for which is a mascot of. The "A" also exists on her digital attire but it has a small terminal database and core processor, and it can contorl the whole attire.

Her theme color is #FDD000.
---
MAN-M1 - Chinese (Mandarin) male vocal
---
MAN-F1 - Chinese (Mandarin) female vocal
---
JA-F1 - Japanese female vocal
External links
Edit
References
Edit
Technology directory

VOCALOID technology

Engine

Derivatives

Support

Hardware

Synthesizer software
Miscellaneous