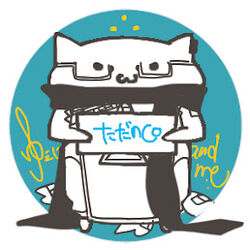 Affiliation
[
]
Official
[
]
Unofficial
[
]
tadanoCo (ただのCo, Co is read Si-wo) is a producer and illustrator.
They use Hatsune Miku and Kagamine Rin in their works. In addition, there has been a number of instances where they also use UTAUs.
Their most notable works are 故にユーエンミ― (Yue ni You and Me) and Teitei Shinjae, both having gained over 400,000 views on Niconico.
They live in Tokyo.[1]
Works
[
]
| Links | Title | Featuring | Date | Roles |
| --- | --- | --- | --- | --- |
| • | 〇月×日ずっと (〇-gatsu ×-nichi Zutto) | Hatsune Miku | February 08, 2013 | music, lyrics |
| • | 重力操作の新化学 (Juuryoku Sousa no Shin Kagaku) | Hatsune Miku | February 27, 2013 | music, lyrics |
| • | 重力操作の新化学 (Juuryoku Sousa no Shin Kagaku) (revised) | Hatsune Miku | February 28, 2013 | music, lyrics |
| • | 金持ちあいつはテトロミノ (Kanemochi Aitsu wa Tetoromino) | Hatsune Miku | April 21, 2013 | music, lyrics |
| • | コバルトバイト (Cobalt Byte) | Hatsune Miku | April 27, 2013 | music, lyrics |
| • | さめざめと (Samezame to) | Hatsune Miku | May 20, 2013 | lyrics |
| • | アルカリ成人 (Alkaline Seijin) | Hatsune Miku | June 05, 2013 | music, lyrics |
| • | 絵空 (Esora) | Hatsune Miku | June 20, 2013 | lyrics |
| • | ミサイルキラー (Missile Killer) | Hatsune Miku | September 08, 2013 | music, lyrics |
| • | パノラマ (Panorama) | Hatsune Miku | November 07, 2013 | music, lyrics |
| • | 故にユーエンミ― (Yue ni You and Me) | Hatsune Miku, Makiyama Fuuki | February 13, 2014 | music, lyrics |
| • | ゴーストストレイト (Ghost Straight) | Hatsune Miku | March 11, 2014 | lyrics |
| | "ていていしんじゃえ" | Hatsune Miku Append Solid | September 30, 2014 | music, lyrics, illust |
| • | 愛憎感のユーエフオ― (Aizoukan no UFO) | Hatsune Miku | November 22, 2014 | music, lyrics |
| • | ディアミー (Dear Me) | Hatsune Miku | November 01, 2015 | music, lyrics |
| • | 甲斐甲斐しい言葉の闇に (Kaigaishii Kotoba no Yami ni) | Hatsune Miku | December 24, 2016 | music, lyrics |
Albums
[
]
Discography
[
]
| Affiliation | Title | Featuring | Date | Roles |
| --- | --- | --- | --- | --- |
| Independent | ナンセンス (Nonsense) | Kagamine Rin, GUMI, Hatsune Miku, Makimiya Fuuki | April 26, 2014 | music, lyrics |
| • | 日刊:遺書 (Nikkan: Isho) | GUMI, Kagamine Rin | November 15, 2014 | lyrics |
Compilation
[
]
| Affiliation | Title | Featuring | Date | Roles |
| --- | --- | --- | --- | --- |
| Independent | 神様と灰色 (Kamisama to Haiiro) | Hatsune Miku | April 26, 2014 | music, lyrics |
| • | 12-トゥエルブ- (12 -Twelve-) | GUMI, Hatsune Miku, IA | April 27, 2014 | music, lyrics |
Gallery
[
]
References
[
]