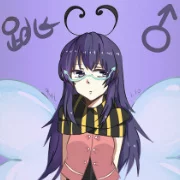 Affiliations
[
]
Yong Yin Xuan
Vanguard Sound
External links
[
]
Official
[
]
Unofficial
[
]
Tiaonan-P (跳蝻P; Tiàonǎn-P), also known as T-Nymph, is a Chinese producer who made his debut in July 2012. While he does not specialize in any particular style, he is known to work with pop, folk, dance, rock, metal, and electronic genres.
After the release of Luo Tianyi, Tiaonan-P initially released a mix of original, cover, and parody songs. He was later regarded for his arrangement and tuning skills. His most notable works are "Tiàodàn de Xìng Fú Lǐlùn" and "Saturn de Qún Bǎi".
His birthday is August 13, 1990.
Works
[
]
| Links | Title | Featuring | Date | Roles |
| --- | --- | --- | --- | --- |
| | "血色舞会" | Luo Tianyi | October 28, 2012 | arrange, tuning, manipulation |
| | "我要挂科了!" | Luo Tianyi | February 7, 2013 | music, lyrics, tuning, mixing, illustrator |
| | "潜移默化(失足少女)" | Luo Tianyi, Luo Tianlang | February 28, 2013 | music, lyrics, mixing |
| | "归去来兮" | Luo Tianyi | July 4, 2013 | tuning |
| | "PLANET NOVA" | Luo Tianyi | July 21, 2013 | compose, arrange, lyrics, tuning |
| | "心之光" | YANHE | August 1, 2013 | music, lyrics, tuning, mastering |
| | "哲学♂革命" | YANHE, GUMI | September 29, 2013 | compose, lyrics, arrange, tuning |
| | "阶上囚" | YANHE | December 19, 2013 | lyrics, compose, arrange, tuning |
| | "齐德隆咚呛" | Luo Tianyi, YANHE | January 28, 2014 | music, lyrics, video |
| | "疑神疑鬼" | YANHE | May 6, 2014 | compose, arrange, lyrics, tuning, mixing |
| | "歪脑筋,好学生" | Luo Tianyi, YANHE | May 6, 2014 | music, lyrics, tuning, mixing |
| | "莎图温的裙摆" | Luo Tianyi | July 10, 2015 | lyrics, compose, arrange, tuning |
| | "绝路" | Luo Tianyi | June 30, 2016 | special thanks, sub bass |
| | "十一号狂怒者" | Luo Tianyi | May 13, 2017 | arrange, mixing |
| | "烟圈" | Yuezheng Longya | August 9, 2017 | arrange, tuning, mixing |
| | "Myth in Math" | YANHE | July 31, 2018 | lyrics, compose, arrange, tuning |
| | "魔伍怔肆" | YANHE | September 22, 2018 | lyrics, compose, arrange, tuning |
Albums
[
]
Compilations
[
]
| Affiliation | Title | Featuring | Date | Roles |
| --- | --- | --- | --- | --- |
| VOCALOID CHINA | "星" | Luo Tianyi | March 23, 2013 | tuning |
| CrossOz | "第一步" | Luo Tianyi | June 11, 2013 | compose, arrange, lyrics, tuning |
| YANHE PROJECT | "The Stage 1" | YANHE | July 11, 2013 | compose, lyrics, tuning, mastering |
| CrossOz | "第二页" | Luo Tianyi, YANHE | June 1, 2014 | compose, arrange, lyrics, tuning, mixing |
| CrossOz | "遇定调和" | YANHE | July 11, 2018 | compose, arrange, lyrics, tuning |