Tone Rion VOCALOID3 VOCALOID4 | Songs Albums Notable Originals
---
Tone Rion (兎眠りおん) is a Japanese VOCALOID developed and distributed by the YAMAHA Corporation,[1][2] and was created in collaboration with Dear Stage (Moe Japan, Co. Ltd.). She was released in December 2011 for the VOCALOID3 engine.
Rion was updated to the VOCALOID4 engine in February 2017.[3]
In December 2016, Rion's voice provider was confirmed to be Dempagumi.inc's Nemu Yumemi.[4]
Her brief backstory states that she is 16 and was born in the year 2095. Rion performs on the "Dear Stage" (ディアステージ) located in future Akihabara set 100 years from the current time. She is based on the idea of "VOCALOID + idol = Vocaloidol" and was the first of the Dear Stage VOCALOID "Vocaloidol" concepts of which 5 vocals were planned. The vocals would come from within Moe Japan's own vocalists.
Etymology
Edit
The kanji for Tone Rion's name means 兎 (bunny/rabbit) and 眠 (sleep), however the phrase itself, "兎眠" (rabbit's sleep), has no significant meaning in Japanese. Though the company does not give any account, Rion's name is believed to be a double pun on the English word Tone and the musical instrument Tenori-on produced by YAMAHA.
Appearance
Edit
The design has the distinct appearance of a 'cooking' maid. However, based upon her background, the design is meant to portray an Akibamaid (秋葉原 メイド), a cosplay girl whose role is that of a waitress rather than a cook.
Her VOCALOID4 design was intended to highlight her link to Yumemi Nemu. This includes a drastic change in color scheming and her physical features such as her hair and eye colors.
Relations
Edit
For more on VOCALOID relationships, see the FAQ.
Marketing
Edit
Tone Rion is the first VOCALOID to be specifically sold as "Moe" and the first to focus on the otaku-based culture. Rion is also the first to target this particular classification directly with her character design, and her vocal was designed around the commonly considered "moe" traits of Japanese manga and anime characters.
On December 15–16, V3 Megpoid , VY1v3 , Akikoloid-chan, Tone Rion, and Aoki Lapis appeared in a 3D concert at Vocafarre 2011.
During Rion's segment, she was "trapped" behind a screen and needed encouragement by the audience to break out. Once she was free, she performed with Dempagumi.inc (でんぱ組.inc). See VocaLawson Vocafarre Concert summary on Nico Nico Douga Broadcast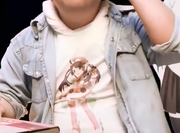 Tone Rion's vocals were used in a Japanese Norton Anti-Virus Commercial "Norton Antivirus USB Amulet". Her character illustration can also be seen on a man's T-shirt and monitor screen. She sings the background song as well, titled "Omamori Uta".[5]
November 7, 2013 Tone Rion & Dear Stage made an appearance in the game Akiba's Trip 2 for the PlayStation 3 and PSVita.[6]
Also Rion has an official Twitter account.
Voicebanks
Edit
Tone Rion

The Tone Rion vocal was designed to be one of several vocals, of which the others were not released. The vocal was later replaced by the Yumemi Nemu vocal. Tone Rion is an example of voice acting and was created to have a cutesy tone and instead of being aimed at professionals was more marketed towards an Otaku based audience.
Music featuring Tone Rion
Edit

君ガ空コソカナシケレ
| | |
| --- | --- |
| Featuring | Tone Rion |
| Producers | |
| Categories | Original song |
| Description | HoneyWorks' 17th published work and their first work to feature Tone Rion. |
みんなとわらった

| | |
| --- | --- |
| Featuring | Tone Rion |
| Producers | Ehamikku |
| Categories | Original song |
| Description | The song was uploaded onto Nico Nico on June 27, 2012. It has gained more than 10,000 views since. |
キャラメルマキアート

| | |
| --- | --- |
| Translation | Caramel Macchiato |
| Featuring | Tone Rion |
| Producers | TAKERU |
| Categories | Original song |
蛍光灯

| | |
| --- | --- |
| Featuring | Tone Rion |
| Producers | Okkusu |
| Categories | Original song |
| Description | Keikoutou is Okkusu's 16th work and 9th original song using Tone Rion. |
Search for music featuring Tone Rion
[show/hide]
Reputation
Edit
Status
Google Trends
Reaction
Rion was popular upon release with the VOCALOID otaku crowd, however, she was not the most popular of the VOCALOIDs released in 2011. On December 11, 2013, research showed her as the least popular release for VOCALOID3. She also failed to receive songs in the Nico Nico Douga rankings in the week of her release and had mostly stayed off the ranking.
Impact
Although Rion received an "SE" release, she did not receive any further updates until May of 2015, where she was given a VOCALOID NEO update.
Misc
In 2015 a survey was made based on the popularity of VOCALOIDs on Nico Video. For 2014, Rion was the 32nd most popular VOCALOID overall and the 5th least popular Japanese capable VOCALOID.[7]
Trivia
With the release of Yumemi Nemu and Tone Rion V4, VOCALOID4 officially tied with VOCALOID3's number of voicebanks that were made available over its lifespan.
Achievements
First VOCALOID to be specifically marketed as "Moe"
First and only Dear Stage (Moe Japan) VOCALOID3 released
First female Dear Stage (Moe Japan) VOCALOID released
One of the first Dear Stage (Moe Japan) VOCALOID4s released
Polls
What characteristic of Tone Rion do you like?
References
Edit
External links
Edit
| Language | Description | Site |
| --- | --- | --- |
| Japanese | Dear Stage official homepage | Link |
| Japanese | TONERION The official website for VOCALOID Tone Rion | Link |
| Japanese | 兎眠りおん @tonerion The official Twitter account for VOCALOID Tone Rion | Link |
| Japanese | 秋葉原ディアステージ @DearStage The official Twitter account for Dear Stage | Link |
| English | VOCALOID shop VOCALOID product page | Link |
| English | deviantArt , art and media community | Link |
| Japanese | Pixiv , art and media community | Link |
Community content is available under
CC-BY-SA
unless otherwise noted.