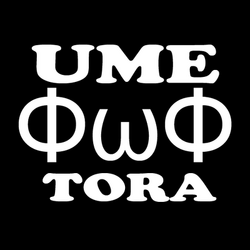 Affiliations
[
]
External links
[
]
Official
[
]
Unofficial
[
]
Umetora (梅とら), formerly known as UMEDY, is a producer and composer. He is best known for producing songs with his group, DIVINE-DIVA (Luka, Miku, GUMI, IA, and Rin).
"Ifuudoudou" is his most popular song by far, with over 2,000,000 views on Niconico.
While his most popular songs belong to the pop/dance genre, he has created songs of other genres as well.
Works
[
]
| Links | Title | Featuring | Date | Roles |
| --- | --- | --- | --- | --- |
| • | 線 (Sen) | Hatsune Miku | May 24, 2011 | music, lyrics |
| • | 花 (Hana) | Hatsune Miku | May 28, 2011 | music, lyrics |
| • | 月光歌 (Gekkouka) | Hatsune Miku | June 03, 2011 | music, lyrics |
| • | LOVEBAKA | GUMI | July 07, 2011 | music, lyrics |
| • | 君の為にこの世界を変えてしまおう (Kimi no Tame ni Kono Sekai o Kaete Shimaou) | GUMI | July 29, 2011 | music, lyrics |
| • | 今日が昨日になっても (Kyou ga Kinou ni Natte mo) | GUMI | August 18, 2011 | music, lyrics |
| • | ノイズing (Noiseing) | GUMI | August 26, 2011 | music, lyrics |
| • | 四面楚歌 (Shimensoka) | Megurine Luka | August 31, 2011 | music, lyrics |
| • | あいまいマーチ (Ambiguous March) | Hatsune Miku | October 23, 2011 | music, lyrics |
| • | 天真爛漫 (Tenshin Ranman) | Hatsune Miku | October 31, 2011 | music, lyrics |
| • | ハジマリのオワリ (Hajimari no Owari) | GUMI | Novemeber 03, 2011 | music, lyrics |
| • | miss you X'mas | GUMI | December 07, 2011 | music, lyrics |
| | "VERSUS" | GUMI | January 12, 2012 | music, lyrics |
| • | キスガミキ (Kissgamiki) | GUMI | February 05, 2012 | music, lyrics |
| | "一心不乱" | Megurine Luka, Hatsune Miku, and GUMI | March 3, 2012 | music, lyrics |
| • | UNMEI ver,2S | GUMI | March 22, 2012 | music, lyrics |
| • | 逆さまな笹かま (Sakasamana Sasakama) | Hatsune Miku | April 29, 2012 | music, lyrics |
| • | 愛してるの唄 (Aishiteru no Uta) | Hatsune Miku | June 20, 2012 | music, lyrics |
| | "狂喜乱舞" | Megurine Luka, Hatsune Miku, GUMI | August 15, 2012 | music, lyrics |
| • | ネムイムネ (Nemui Mune) | Hatsune Miku | August 23, 2012 | music, lyrics |
| • | 紫苑 (Shion) | GUMI | September 19, 2012 | music, lyrics |
| | "威風堂々" | DIVINE-DIVA: | October 29, 2012 | music, lyrics |
| • | キマグレ2 (Kimagure 2) | GUMI, Kagamine Rin | November 11, 2012 | music, lyrics, illust, video |
| • | タタカイのヒト (Tatakai no Hito) | IA | November 26, 2012 | music, lyrics |
| | "jewel" | DIVINE-DIVA: | May 19, 2013 | music, lyrics, movie |
| | "未来永劫" | DIVINE-DIVA: | June 2, 2013 | music, lyrics |
| | "虎視眈々" | DIVINE-DIVA: | October 24, 2013 | music, lyrics |
| | "FLASH BACK" | DIVINE-DIVA: | February 2, 2014 | music, lyrics |
| • | unLimited | Kagamine Len | March 10, 2014 | music, lyrics |
| | "疑心暗鬼" | DIVINE-DIVA: | June 13, 2014 | music, lyrics |
| | "一騎当千" | DIVINE-DIVA: | December 9, 2014 | music, lyrics |
| | "Love Me If You Can" | DIVINE-DIVA: | March 28, 2015 | music, lyrics |
| | "四面楚歌" | DIVINE-DIVA: | May 29, 2015 | music, lyrics |
| | "BURNING" | DIVINE-DIVA: | August 16, 2015 | music, lyrics |
| | "D" | DIVINE-DIVA: | January 26, 2016 | music, lyrics |
| | "RED STAR" | DIVINE-DIVA: | April 16, 2016 | music, lyrics |
| • | キミガ望ムモノ (Kimi ga Nozomu Mono) | GUMI | April 25, 2016 | music, lyrics |
| | "Black Out" | DIVINE-DIVA: | August 10, 2016 | music, lyrics |
| | "'LaLaL危" | DIVINE-DIVA: | September 17, 2016 | music, lyrics |
| • | SCREAM | GUMI | January 09, 2017 | music, lyrics, illust, video |
| | "SUPER DAYS" | DIVINE-DIVA: | July 28, 2017 | music, lyrics |
| | "Makes You A Fighter" | DIVINE-DIVA: | October 20, 2017 | music, lyrics |
| | "KILLER B" | DIVINE-DIVA: | December 21, 2017 | music, lyrics |
| | "ANIMAる" | GUMI and Kagamine Rin | May 23, 2018 | music, lyrics, video |
| • | サクラソウ (Sakurasou) | IA | September 01, 2018 | music, lyrics |
| | "唯一、愛ノ詠" | DIVINE-DIVA: | September 15, 2018 | music, lyrics |
| • | ハイドランジア (Hydrangea) | IA | October 11, 2018 | music, lyrics |
| • | 7 | Hatsune Miku | June 06, 2019 | music, lyrics |
| | "SURVIVE" | Hatsune Miku, Kagamine Len, KAITO, Megurine Luka, MEIKO, and Kagamine Rin | August 26, 2019 | music, lyrics |
| • | 雷鳴 (Raimei) | Hatsune Miku | March 22, 2020 | music, lyrics |
| • | 雷鳴 弐ノ陣 (Raimei Ninojin) | Hatsune Miku | March 27, 2020 | music, lyrics |
| • | 赤ネ鳳 (Akane Ageha) | Hatsune Miku | July 27, 2020 | music, lyrics |
Albums
[
]
Discography
[
]
| Affiliation | Title | Featuring | Date | Roles |
| --- | --- | --- | --- | --- |
| Dwango User Entertainment, Inc. | DIVINE-DIVA (album) | Hatsune Miku, Kagamine Rin, GUMI, Megurine Luka, IA | February 03, 2015 | music, lyrics |
Singles
[
]
| Affiliation | Title | Featuring | Date | Roles |
| --- | --- | --- | --- | --- |
| • | 一心不乱 (Isshinfuran) (single) | Hatsune Miku, GUMI, Megurine Luka | March 23, 2012 | music, lyrics |
| Independent | 唯一、愛ノ詠 (Yuiitsu, Ai no Uta) (single) | Hatsune Miku, GUMI, Megurine Luka, IA, Kagamine Rin | September 15, 2018 | music, lyrics |
| KARENT | SURVIVE (single) | Hatsune Miku, KAITO, MEIKO, Kagamine Rin & Len, Megurine Luka | November 15, 2019 | music, lyrics |
| KARENT | 雷鳴 (Raimei) (single) | Hatsune Miku | April 15, 2020 | music, lyrics |
Compilations
[
]
| Affiliation | Title | Featuring | Date | Roles |
| --- | --- | --- | --- | --- |
| +one | Gumi Rock Splash | GUMI | June 26, 2012 | music, lyrics |
| Dwango User Entertainment, Inc. | V Love 25 -Gloria- | Hatsune Miku, Kagamine Rin & Len, Megurine Luka, GUMI, IA, Camui Gackpo, MEIKO, KAITO, Yuzuki Yukari, Lily | July 17, 2013 | music, lyrics |
| DRAGONFLY | "SQUARE" | Lily, GUMI, IA, VY1, Hatsune Miku | August 12, 2013 | music, lyrics |
| TEAM Entertainment | "IA THE WORLD ~刻~" | IA | October 2, 2013 | music, lyrics (track 11) |
| EXIT TUNES | "EXIT TUNES PRESENTS Vocalofuture feat. 初音ミク" | Hatsune Miku, GUMI, Megurine Luka, Kagamine Rin, Kagamine Len, IA, MAYU, Camui Gackpo, KAITO, and MEIKO | November 6, 2013 | music, lyrics |
| TEAM Entertainment | "IA THE WORLD ~夢~" | IA | February 5, 2014 | music, lyrics |
| VOCALOID RECORDS, YAMAHA MUSIC COMMUNICATIONS, Inc. | 踊ボカ!! ~踊ってみたセレクション~ (Odori Voca!! ~Odottemita Selection~) | Hatsune Miku, Kagamine Rin & Len, Megurine Luka, GUMI, IA | March 12, 2014 | music, lyrics |
| TEAM Entertainment | "IA THE WORLD ~紅~" | IA | July 2, 2014 | music, lyrics (track 07) |
| EXIT TUNES | "EXIT TUNES PRESENTS Entrance Dream Music 3" | Hatsune Miku, Lily, Kagamine Rin & Len, GUMI, and IA | October 2, 2015 | music, lyrics |
| Dwango User Entertainment, Inc. | 「#コンパス 戦闘摂理解析システム」 オリジナルサウンドトラック Vol.02 ("#Compass: Sentou Setsuri Kaiseki System" Original Soundtrack Vol.02) | GUMI, IA, Hatsune Miku, Megurine Luka, Kagamine Rin & Len | February 20, 2019 | music, lyrics |
| KARENT | 初音ミク「マジカルミライ 2019」OFFICIAL ALBUM (Hatsune Miku "Magical Mirai 2019" OFFICIAL ALBUM) | Hatsune Miku, Megurine Luka, Kagamine Rin & Len, KAITO, MEIKO | July 10, 2019 | music, lyrics |
| KARENT | CRASH FEVER ORIGINAL SOUNDTRACK feat. MIKU,RIN,LEN 01 | Hatsune Miku, Kagamine Rin & Len | July 06, 2021 | music, lyrics |
Gallery
[
]