Utatane Piko VOCALOID2 | Songs Albums Notable Originals
---
Utatane Piko (歌手音ピコ) or CodenamePIKO (開発コードPIKO) is a Japanese VOCALOID developed and distributed by Ki/oon Music Inc. (formerly Ki/oon Records Inc.), under Sony Music Entertainment Japan, and was released in December 2010 for the VOCALOID2 engine. His voice is provided by the Japanese male singer, PIKO. His release and development occurred in conjunction with the release of PIKO's second single "勿忘草".
Concept
[
]
Etymology
[
]
His surname, "Utatane", means "sound of singer", while "Piko" is the name of his voice provider, a popular Niconico singer; in other words, his name means "the sound of the singer Piko".
Appearance
[
]
Utatane Piko's hairstyle is almost identical to the real Piko's hairstyle, with the only difference being a cowlick (or "ahoge") on top of his head that is shaped like the letter "P". The white hair color is likely inspired by several artworks depicting the singer.[1] His design incorporates aspects of Yamaha's RGX A2 guitar and his eyes show heterochromia iridum, a green right eye and a blue left eye with a volume interface.
He has a USB cord on the back of his sleeveless top.
Relations
[
]
For more on VOCALOID relationships, see the FAQ.
History
[
]
Marketing
[
]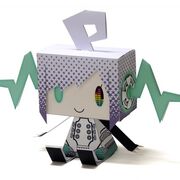 Though he has a standard licensing agreement, Sony has held tight control on how his voicebank may be used. This was demonstrated when Sony announced they would not give permission for his vocals to be uploaded from the demo version. There was very little promotion given for him and he seemed to rely only on his provider's popularity and links with the VOCALOID fandom. He was the only Japanese VOCALOID2 vocal to be made download only at time of release. Utatane Piko's portrayal is that of a teenage or young male singer.

In February 2011, Sony promoted the voice provider's single "桜音 (Sakura Ne)", the fourth ending to the anime Gin Tama. If attendees made reservations they would receive promotional photos of the voice provider and of the VOCALOID dressed in similar fashions.[3]
In April 2012, figurines of the voice provider and the VOCALOID were released in conjunction with a promotional bundle for an album. All produced by COSPA.[4][5]
Voicebanks
[
]
Utatane Piko
A higher pitch, young male vocal made to sound like the singer Piko. Originally the counterpart of SF-A2 miki until the pair were split up.
Music featuring Utatane Piko
[
]

remember

| | |
| --- | --- |
| Translation | remember |
| Featuring | Utatane Piko |
| Producers | Kannakuzu |
| Categories | Original song |
| Description | The singer reminisces about a former love and the memories he shared with them. He wavers between whether or not he should tell them about his feelings for them before deciding that their goodbye was for the best. |
Piko's feelings

| | |
| --- | --- |
| Translation | Piko's feelings |
| Featuring | Utatane Piko |
| Producers | |
| Categories | Original song |
| Description | Gobou-P's first work with Piko. Piko sings about himself and his feelings. He repeatedly denies accusations of being a robot, stating that he's a boy. |
色の遊び
君のうた

| | |
| --- | --- |
| Translation | 君のうた (Kimi no Uta) |
| Featuring | Utatane Piko |
| Producers | WakaG |
| Categories | Original song |
Search for music featuring Utatane Piko
[show/hide]
Gallery
[
]
Reputation
[
]
Status
Google Trends
Reaction
In the Japanese fandom, he is currently amongst the lesser used VOCALOIDs, but overall has more usage than the previous male released in 2010, Ryuto. Part of his usage problem is owed to being released next to the Kagamine Append, with the Kagamines grabbing much of the attention from him as a result.
Misc
An independent search on Niconico revealed that most VOCALOIDs had less than 1,000 videos uploaded on Niconico in 2011 between July 1st and December 15th. Piko fell into that category.[6]
Trivia
SF-A2 miki's voice provider, Miki Furukawa, works for Ki/oon Music which is owned by Sony. She is from the same group that Utatane Piko's provider Piko comes from.
Utatane Piko was also the youngest Japanese male VOCALOID to actually be voiced by a male vocalist prior to VY2.
Achievements
First VOCALOID produced by Sony
First male VOCALOID produced by Sony
First VOCALOID to not have a retail package
References
[
]
External links
[
]
| Language | Description | Site |
| --- | --- | --- |
| Japanese | Kioon official homepage | Link |
| Japanese | Ki/oon Music official homepage | Link |
| Japanese | VOCALOID2 Piko The official website for VOCALOID Utatane Piko | Link |
| English | deviantArt , art and media community | Link |
| Japanese | Pixiv , art and media community | Link |
[

]