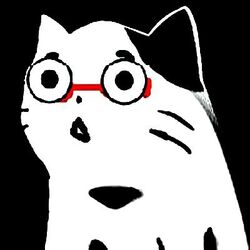 Affiliations
[
]
External links
[
]
Official
[
]
Unofficial
[
]
Utsu-P (鬱P, lit. Depression-P) (born December 01, 1990[1]), is a recognized producer known for his metal VOCALOID songs.
Although at the beginning his songs exclusively featured Miku, he now also uses Rin, GUMI, and flower as well.
He is well known for managing VOCALOIDs to perform shouts, screams and grunts through the use of filters and effects, and his melody generally has a heavy bass line.
Aside from that, his lyrics often are somewhat complex and their hidden meaning is difficult to grasp at first glance.
He is also a member and founder of the band Ohayougozaimasu (おはようございます, Good Morning), and producer of the idol group Zsasz.
Works
[
]
| Links | Title | Featuring | Date | Roles |
| --- | --- | --- | --- | --- |
| • | ダイベン (Daiben) | Hatsune Miku | June 09, 2008 | music, lyrics |
| • | Crimson Of Sadness | Hatsune Miku | July 06, 2008 | music, lyrics |
| • | かくさしゃかい (Kakusa Shakai) | Hatsune Miku | July 13, 2008 | music, lyrics |
| • | ようこそ恋愛病院へ (Youkoso Ren'ai Byouin e) | Hatsune Miku | July 25, 2008 | music, lyrics |
| • | stuPid People | Hatsune Miku | August 18, 2008 | music, lyrics |
| | "アンチ・デジタリズム" | Hatsune Miku | September 1, 2008 | music, lyrics |
| • | のどがかわいた (Nodo ga Kawaita) | Hatsune Miku | September 29, 2008 | music, lyrics |
| • | 鳥葬 (Chousou) | Hatsune Miku | November 16, 2008 | music, lyrics |
| | "生命付ダッチワイフ" | Hatsune Miku | December 1, 2008 | music, etc |
| • | Fuckin' Santaclaus | Hatsune Miku | December 24, 2008 | music, lyrics |
| • | クビククリ・モンスター-Doll MiX- (Kubikukuri Monster -Doll MiX-) | Hatsune Miku | March 08, 2009 | music, lyrics |
| | "恐怖!スピーカー人間" | Hatsune Miku | April 3, 2009 | music, lyrics |
| None | "華" | Hatsune Miku | May 17, 2009 | music, lyrics |
| • | dope disco | Hatsune Miku | May 08, 2009 | music, lyrics |
| | ""骸Attack!!"" | Hatsune Miku | July 3, 2009 | music, lyrics |
| • | 自爆 (Jibaku) | Hatsune Miku | August 31, 2009 | music, lyrics |
| | "DIARRHEA" | Hatsune Miku | November 12, 2009 | music, lyrics |
| | "Psychokinesis" | Hatsune Miku | November 07, 2009 | music, lyrics |
| • | スリープウォーク (Sleep Walk) | Hatsune Miku | January 25, 2010 | music, lyrics |
| | "害虫" | Hatsune Miku | April 23, 2010 | music, lyrics |
| | ""オトナのオモチャ"" | Kagamine Rin | June 18, 2010 | music, lyrics |
| | "THE DYING MESSAGE" | Kagamine Rin | August 03, 2010 | music, lyrics |
| | "potato-head in wonderland" | Hatsune Miku | September 7, 2010 | music, lyrics |
| None | "公衆便所のスミ" | Kagamine Rin | November 14, 2010 | music, lyrics |
| | "イッシュのポケモン 言えるのか!" | Ryuto, Hatsune Miku, SF-A2 miki, KAITO, Kagamine Rin, GUMI, Kasane Teto, Camui Gackpo | December 11, 2010 | arrange, GUMI |
| • | TRAUMATIC | Kagamine Rin | December 16, 2010 | music, lyrics |
| | "生霊" | Kagamine Rin | January 09, 2011 (NND) and February 20, 2016 (YT) | music, lyrics |
| | "再生" | GUMI | March 24, 2011 | music, lyrics |
| | "P 名 光 っ て た" | Hatsune Miku | April 11, 2011 | producer |
| | "ブラックホールアーティスト" | Kagamine Rin and GUMI | July 25, 2011 | compose, arrange, lyrics |
| • | 教室の悪魔 (Kyoushitsu no Akuma) | GUMI | July 12, 2011 | music, lyrics |
| • | CALCIUM | Kagamine Rin | August 10, 2011 | music, lyrics |
| | "コロナ" | Kagamine Rin | August 29, 2011 | music, lyrics |
| • | しましまメロディ (Shimashima Melody) | GUMI | October 04, 2011 | music, lyrics |
| | "アレグラ" | Kagamine Rin | November 11, 2011 | music, lyrics |
| | "ディス・イズ・ラブソング" | GUMI | January 1, 2012 | music, lyrics |
| • | 惑星無修正 (Wakusei Mushuusei) | Kagamine Rin | February 07, 2012 | music, lyrics |
| | "馬鹿はアノマリーに憧れる" | Kagamine Rin | March 24, 2012 (NND) & February 20, 2016 (YT) | music, lyrics |
| • | 幸福列車に乗ろう (Koufuku Ressha ni Norou) | GUMI | April 14, 2012 | music, lyrics |
| • | かえるたちのうた (Kaeru tachi no Uta) | Kagamine Rin | May 01, 2012 | frog provide |
| | "モンキーダンスの洗脳術" | Kagamine Rin | July 17, 2012 | music |
| | "暴動" | Kagamine Rin | November 1, 2012 | music, lyrics |
| None | "チョコレイト・オンナノコ" | GUMI | December 19th, 2012 | music, lyrics |
| • | B-CLASS HEROES | Hatsune Miku | February 13, 2013 | music, lyrics |
| • | Computer_ | Kagamine Rin | February 14, 2013 | music, lyrics |
| | "MiKUSABBATH" | Hatsune Miku | April 18, 2013 | music, lyrics |
| • | ベイビー・デスマッチ (Baby Death Match) | Kagamine Rin | July 03, 2013 | music, lyrics |
| | "Ghost Under the Umbrella" | GUMI Power | July 18, 2013 | music, lyrics |
| | "看板娘の悪巫山戯" | Hatsune Miku, Kagamine Rin, GUMI | July 25, 2013 (NND) & Feb 20, 2016 (YT) | music, lyrics |
| | "ニャン黙の了解" | Hatsune Miku, Kagamine Rin | August 07, 2013 | music, lyrics |
| • | P.O.R.N.O. | GUMI | January 02, 2014 | music, lyrics |
| • | UFOと雛人形 (UFO to Hinaningyou) | Kobayashi Matcha, Masaoka Azuki | January 14, 2014 | music, lyrics |
| | "ゴージャスビッグ対談" | Hatsune Miku | Feb 07, 2014 | music, lyrics |
| | "皆殺しのマジック" | GUMI Power | March 1, 2014 | music, lyrics |
| • | 地獄ポップス (Jigoku Pops) | Kagamine Rin | June 20, 2014 | music, lyrics |
| | "インパーフェクトアニマルズ" | Kagamine Rin, GUMI | July 25, 2014 | compose, arrange, lyrics |
| | "絶対音楽で踊れ" | flower | August 28, 2014 | music, lyrics |
| • | モンスターグロウ (Monster Grow) | GUMI | January 15, 2015 | music, lyrics |
| | "食事" | Kagamine Rin | August 7, 2015 | music, lyrics |
| | "生きてるおばけは生きている" | flower | Feb 19, 2016 | compose, arrange, lyrics |
| | "HIKIZURI" | Kagamine Rin | May 20, 2016 | music, illust, video |
| | "麺屋ぐろてすく" | Kagamine Rin | August 11, 2017 | music, lyrics, VOCALOID tuning |
| | "天使だと思っていたのに" | Hatsune Miku | February 01, 2018 | lyrics |
| | "ハイパーリアリティショウ" | Hatsune Miku | April 4, 2019 | music, lyrics |
| • | お天道様とドブネズミ (Otentou-sama to Dobunezumi) | Hatsune Miku | June 14, 2019 | music, lyrics |
| • | 2000年3月9日 (2000-nen 3-gatsu 9-ka) | Hatsune Miku | March 09, 2020 | music, lyrics |
| | "MiKUSABBATH" | Hatsune Miku | April 18, 2020 | music, lyrics |
| • | 宇宙人のアイラブユー (Uchuujin no I Love You) | Hatsune Miku | April 09, 2020 | music, lyrics |
| • | dull | Hatsune Miku, Megurine Luka | May 14, 2020 | music, lyrics, arrangement |
| • | デスロウ (Death Row) | Hatsune Miku | September 10, 2020 | music, lyrics |
| • | OGRE | Hatsune Miku | November 06, 2020 | music, lyrics |
| • | vivid | Hatsune Miku, Megurine Luka | December 11, 2020 | music, lyrics, arrangement |
| • | 映えない (Haenai) | Hatsune Miku | March 31, 2021 | music, lyrics |
| • | ぬる (NULL) | Hatsune Miku | May 14, 2021 | music, lyrics |
| • | ユニークパレード (Unique Parade) | Hatsune Miku | October 14, 2021 | music, lyrics |
| • | ハロービルダー (Hello Builder) | Hatsune Miku | March 02, 2022 | music, lyrics |
| • | ゲテモノ (Getemono) | Hatsune Miku | March 25, 2022 | music, lyrics |
Albums
[
]
Discography
[
]
| Affiliation | Title | Featuring | Date | Roles |
| --- | --- | --- | --- | --- |
| • | DIARRHEA | Hatsune Miku | November 15, 2009 | music, lyrics |
| • | TRAUMATIC | Hatsune Miku | November 14, 2010 | music, lyrics |
| • | MOKSHA | GUMI, Hatsune Miku, Kagamine Rin | April 30, 2012 | music, lyrics |
| • | CD-R | GUMI, Hatsune Miku, Kagamine Rin | July 07, 2013 | music, lyrics |
| • | 悪巫山戯 (Warufuzake) | GUMI, Hatsune Miku, Kagamine Rin | August 07, 2013 | music, lyrics |
| • | おかず (Okazu) | GUMI, Hatsune Miku, Kagamine Rin & Len | April 26, 2014 | music, lyrics |
| MY SONG IS SHIT | "ALGORITHM" | Hatsune Miku, GUMI, Kagamine Rin, flower | Aug 17, 2014 | music, lyrics |
| • | Post-Traumatic Stress Disorder | Hatsune Miku, Kagamine Rin | August 10, 2016 | music, lyrics |
| • | GALAPAGOS | GUMI, Hatsune Miku, Kagamine Rin, flower | August 11, 2017 | music, lyrics |
| NBCUniversal Music | "CONCIENTIA" | GUMI, Hatsune Miku, Kaai Yuki, CYBER SONGMAN, Megurine Luka | December 20, 2017 | arrangement |
| MY SONG IS SHIT | "GREATEST SHITS" | Hatsune Miku, Kagamine Rin, GUMI, flower, MAYU | August 10th, 2018 | music, lyrics |
| Dwango User Entertainment, Inc., KARENT | "RENAISSANCE" | Hatsune Miku, Kagamine Rin, and GUMI | August 10, 2019 | music, lyrics |
| | "#SUPER_SHIBORIKASU" | Hatsune Miku, Kagamine Rin, GUMI, flower, and Kagamine Len | April 9, 2020 | producer |
| KARENT | UNIQUE | Hatsune Miku, Megurine Luka, Kagamine Rin, KAFU | October 23, 2021 | music, lyrics |
E.Ps
[
]
| Affiliation | Title | Featuring | Date | Roles |
| --- | --- | --- | --- | --- |
| • | DOLL (EP) | Hatsune Miku | May 17, 2009 | music, lyrics |
| • | P (album) | GUMI, Hatsune Miku, Kagamine Rin | March 27, 2011 | music, lyrics |
| • | 毒 (Doku) | GUMI, Kagamine Rin | December 31, 2011 | music, lyrics |
| • | 俗 (Zoku) | Hatsune Miku, MAYU | December 31, 2012 | music, lyrics |
| • | TEYAKI | Hatsune Miku, GUMI, flower | December 30, 2014 | music, lyrics |
| • | しぼりカスEP (Shibori Kasu EP) | Hatsune Miku, GUMI, Kagamine Rin | December 29, 2017 | music, lyrics |
| • | 俗 e.p. & 毒 e.p. (ZOKU e.p. & DOKU e.p.) | Hatsune Miku, GUMI, Kagamine Rin, MAYU | August 26, 2020 | music, lyrics |
Compilations
[
]
| Affiliation | Title | Featuring | Date | Roles |
| --- | --- | --- | --- | --- |
| • | ミク煮込み~東海味~ (Miku Nikomi ~ Toukai Aji ~) | Hatsune Miku, Kagamine Rin & Len | February 22, 2009 | music, lyrics |
| • | ミク煮込み~東海味~おかわりっ! (Miku Nikomi ~ Toukai Aji ~ Okawarii) | Hatsune Miku, Megurine Luka, Prima, MEIKO, Kagamine Rin & Len | November 15, 2009 | music, lyrics |
| Under-20 CD Project | imparfait | Hatsune Miku, Megurine Luka, KAITO, Kagamine Rin & Len | November 15, 2009 | music, lyrics |
| V.L.P. | V.L.P | Hatsune Miku, Megurine Luka, GUMI | May 09, 2010 | music, lyrics |
| EXIT TUNES | "EXIT TUNES PRESENTS Supernova 3" | Hatsune Miku, Kagamine Len, Kagamine Rin, GUMI, Megurine Luka, and MEIKO | July 7, 2010 | music, lyrics |
| creazuma | "Try!" | Hatsune Miku, Kagamine Len, Kagamine Rin, GUMI, Megurine Luka, Camui Gackpo, and BIG AL | August 14, 2010 | music, lyrics |
| FARM RECORDS | "VOCAROCK collection 2 feat. 初音ミク" | Hatsune Miku, Kagamine Rin, and Megurine Luka | December 15, 2010 | music, lyrics |
| Tomeichi | JAM POT | Hatsune Miku, GUMI, Megurine Luka, Kagamine Rin | June 12, 2011 | music, lyrics |
| +one | Sequence | GUMI, Hatsune Miku, Kagamine Rin, SF-A2 miki, Nekomura Iroha, Megurine Luka, Kasane Teto | June 12, 2012 | music, lyrics |
| Traffic Entertainment | VOCALOID tribute to THE BLUE HEARTS | Hatsune Miku, Kagamine Rin, GUMI, DODON | September 04, 2011 | music, lyrics |
| BinaryMixx Records | universe | Hatsune Miku, Kagamine Rin, GUMI, Megurine Luka | October 05, 2011 | music, lyrics |
| FARM RECORDS | "VOCAROCK collection 3 feat. 初音ミク" | Hatsune Miku, Kagamine Rin, Megurine Luka, GUMI, and Kagamine Len | December 7, 2011 | music, lyrics |
| Logic Strike | SHUFFLE!!!!! | Hatsune Miku, Kagamine Rin & Len, Megurine Luka, MEIKO and GUMI | December 31, 2012 | music, lyrics |
| VOCALOID RECORDS, Yamaha Corporation | Happy Party☆彡 -VOCALOID3 Megpoid(GUMI)- | GUMI | March 14, 2012 | music, lyrics |
| U-Rythmix records | 坊歌ろいど ~火の巻~ (Vocaloid ~Hi no Maki~) | CUL, Hatsune Miku, Megurine Luka, Kagamine Rin, GUMI | April 27, 2012 | music, lyrics |
| EXET TONES | EXET TONES PRESENTS Supemova | GUMI, IA, SF-A2 miki, Hatsune Miku, Kagamine Rin | April 29, 2012 | music, lyrics |
| avex trax, VOCALOID RECORDS, YAMAHA MUSIC COMMUNICATIONS, Inc. | VOCALOUD 00 | Hatsune Miku, Kagamine Rin, Megurine Luka | June 27, 2012 | music, lyrics |
| EXIT TUNES | "EXIT TUNES PRESENTS VOCALOID™3 Library MAYU SPECIAL 2CD" | MAYU | December 5, 2012 | music, lyrics |
| GINGA | 0004:a galaxy odyssey | Hatsune Miku, Kagamine Rin, GUMI | December 19, 2012 | music, lyrics |
| BinaryMixx Records | "V♥25 -Exclamation-" | Hatsune Miku, Kagamine Len, Kagamine Rin, GUMI, Megurine Luka, IA, Camui Gackpo, KAITO, MEIKO, Yuzuki Yukari, Lily, VY2 | January 09, 2013 | music, lyrics |
| Ratai no Silhouette, VR+ | VM@ | Hatsune Miku, GUMI, IA, Yuzuki Yukari, Kagamine Rin & Len, Megurine Luka | April 27, 2013 | music, lyrics |
| 1-Funkan Compi | 1分間コンピ (1-Funkan Compi) | Hatsune Miku, GUMI, Lily, SF-A2 miki, VY1, Kaai Yuki, Nekomura Iroha, IA, Yuzuki Yukari, Kagamine Rin & Len, Megurine Luka, Satou Sasara, *Shimi, 148cm, Naki, Panaman | July 07, 2013 | music, lyrics |
| BinaryMixxRecords | "V♥25 -Gloria-" | Hatsune Miku, Kagamine Rin, GUMI, Kagamine Len, Megurine Luka, IA, Yuzuki Yukari, KAITO, MEIKO, Camui Gackpo, and Lily | July 17, 2013 | music, lyrics |
| PLANARIYA Recordings | DQN STYLE | Kagamine Rin | November 17, 2013 | music, lyrics |
| FARM RECORDS | "VOCAROCK collection 5 feat. 初音ミク" | GUMI, Hatsune Miku, IA, Kagamine Len, Kagamine Rin, and Megurine Luka | December 25, 2013 | music, lyrics |
| KLAFT | EXISTENCE | Megurine Luka, Kagamine Len, GUMI, Aoki Lapis, Kagamine Rin, Hatsune Miku, Namine Ritsu | December 31, 2013 | music, lyrics |
| U/M/A/A, Sony Music Entertainment Japan | "MIKU-MIXTURE" | Hatsune Miku | February 19, 2014 | music, lyrics |
| YAMAHA MUSIC COMMUNICATIONS, Inc. | VOCALOUD 01 - Breaking of the Emotion - | Hatsune Miku, GUMI, Megurine Luka, Kagamine Rin | March 12, 2014 | music, lyrics |
| Independent | おみこし -Pinocchiop Tribute Album- (Omikoshi -Pinocchiop Tribute Album-) | Hatsune Miku, GUMI, Kagamine Rin, SF-A2 miki, Yuzuki Yukari | April 26, 2014 | music, lyrics |
| Gynoid Co., Ltd. | debut | flower | October 01, 2014 | music, lyrics |
| Gynoid Co., Ltd. | "一期一会" | flower, GUMI | February 24, 2016 | music, lyrics |
| Sony Music Entertainment Japan | DECO*27 ONE TIME SELECTION | Hatsune Miku | September 13, 2016 | arrangement |
| KARENT | "KARENT presents 鏡音リン・レン 10th Anniversary -LODESTAR-" | Kagamine Rin & Len | December 27, 2017 | music, lyrics |
| KARENT | "巡音ルカ 10th Anniversary - Fabulous∞Melody -" | Megurine Luka | January 30, 2019 | music, lyrics |
| Sony Music Entertainment Japan | 「#コンパス 戦闘摂理解析システム」 オリジナルサウンドトラック Vol.02 ("#Compass: Sentou Setsuri Kaiseki System" Original Soundtrack Vol.02) | Hatsune Miku, GUMI, IA, Megurine Luka, Kagamine Rin & Len | February 20, 2019 | music, lyrics |
| KARENT | "初音ミク「マジカルミライ 2020」OFFICIAL ALBUM" | Hatsune Miku, MEIKO, Kagamine Rin, Megurine Luka, Kagamine Len, and KAITO | August 31, 2020 | music, lyrics |
| U/M/A/A | "ピノキオピー BEST ALBUM 2009-2020 「寿」" | Hatsune Miku | March 3, 2021 | arrangement |
| KARENT | CRASH FEVER ORIGINAL SOUNDTRACK feat.MIKU,RIN,LEN 01 | Hatsune Miku, Kagamine Rin & Len | July 06, 2021 | music, lyrics |
| KARENT | HATSUNE MIKU Digital Stars 2022 Compilation | Hatsune Miku, Kagamine Rin & Len, KAITO, GUMI, MEIKO, flower, Otokaze Ikuru | May 25, 2022 | music, lyrics |
| KARENT | ""初音ミク「マジカルミライ 2020」[Live]"" | Hatsune Miku, Kagamine Rin, KAITO, MEIKO, Kagamine Len, Megurine Luka | May 20, 2022 | music, lyrics |
Gallery
[
]
References
[
]