📰

This subject requires intervention. What is being worked on: Date founded
For information on how to help, see the guidelines.  More subjects categorized here.

📰
The VOCALOID STORE was a online outlet for the purchase of many VOCALOID products, which was originally run by Bplats, Inc..
Original store
Edit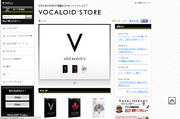 It was opened in conjunction with the release of VOCALOID3 and offered easy methods of purchasing VOCALOID products, including the purchase of VOCALOID3 and VOCALOID2 VOCALOID voicebank library packages, Job Plug-ins and some merchandise. It also offered VOCALOID4 packages when they first went to sale. Serial codes and licensing details were held by the site, making it easy to register products and re-download them if users had problems. For overseas customers, the store also made it easier to purchase packages that came from companies such as Internet Co., Ltd., which had lead to high importation costs in the past due to how difficult their products were to purchase and export. The store was expanded to include other languages such as English, and later expanded to include Chinese (Mandarin) and Korean. Registration was required to make purchases.
However, there were some drawbacks to the service; different versions of the store were not always updated to match each other, and some packages could take a few months to appear on the alternate language sites. Likewise, not all VOCALOID packages were able to be easily bought from the site; none of the Zero-G Limited and PowerFX Systems AB. VOCALOIDs were offered for sale, and the only Spanish VOCALOID to make it to the site was MAIKA. Products such as CYBER DIVA could not be purchased from certain mailing addresses, e.g those in America.
In May 2015, its closure was announced.[1] Prior to its closure, VOCALOID MUSIC PUBLISHING had also shut down its website. Though versions such as the English page remained, the Japanese version was merged with the VOCALOID network alongside other services such as VOCALOID NET.[2] n It was replaced with the VOCALOID SHOP.
At the time the changeover was not welcomed by all developers. At one stage Macne Nana was being considered for release on AH-Software Co. Ltd.'s store instead of the new Vocaloid shop.[3]
The English store remained open until March 2016, at this point all related services were moved to the Vocaloid network.[4]
References
Edit
External links
Edit
Community content is available under
CC-BY-SA
unless otherwise noted.