VOCALOID first is an iOS app released by Yamaha.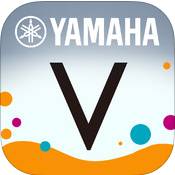 The app offers an easy to use method of writing songs on the go. The app itself is free but additional content is paid for. It allows for easy creation and uploading to YouTube.[1]
It works with the iPhone4S, iPhone5 and iPod touch.
The vocals held by the app, are powered by a basic version of the VY1 vocal. However, despite the poor quality of this version of the VY1 vocal, at the time of release, this was the first fully working "free" version of VOCALOID™.
It also had the ability to connect to the VOCALOID NET
The vocal found within the app was reported to have been exported into VOCALOID3. However, this is a direct breakage of the license agreement as the vocal cannot naturally be imported into VOCALOID3. A similar event occurred for Project 575 wherein the vocals of Kobayashi Matcha and Masaoka Azuki were extracted from Uta Kumi 575 video game into VOCALOID3.

The vocal within this app is not the same as VY1 "lite" which was used in other software such as the Mobile VOCALOID Editor, it is currently the lowest quality voicebank using the VY1 voice known that was released.
References
Edit
External links
Edit
Technology directory

VOCALOID technology
Synthesizer software
Miscellaneous