⚠

This is a VOCALOID media topic.
Any changes should be notified to ensure that edits meet Vocaloid wiki's policies and guidelines.  More subjects categorized here.

⚠
Snow Miku 2013 is on the cover of Comptiq, a Japanese computer game magazine, from the February 2013 edition.[1]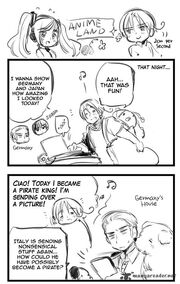 Binbougami ga!
Edit
In Binbougami ga!, one of the chapters in the manga series shows Momiji cosplaying Miku in the chapter's front cover.
Comic Party
Edit
In the manga Comic Party, during the fair there is a person wearing Rin's ribbon and the same hairstyle.
Deathtopia
Edit
In Chapter 19: Bloody Party. A Hatsune Miku cosplayer corpse was found by 6th division police force during Rave Party in their investigation.
Girlfriends
Edit
In the last chapter, there is a picture of Tama Min cosplaying Hatsune Miku with a boy (possibly Harada) cosplaying KAITO.
Hetalia World Stars
Edit
During a strip in chapter 11, Miku is shown at a cosplay convention.
Masamune-kun's revenge
Edit
On page 22 in chapter 29 of the Masamuhe-Kun's revenge manga one of the characters can be seen singing a Vocaloid song titled Senbonzakura
Weekly Jump strip
Edit
Miku also made a cameo appearance in a Weekly Jump strip.[2]
References
Edit
Community content is available under
CC-BY-SA
unless otherwise noted.