⚠

This is a VOCALOID media topic.
Any changes should be notified to ensure that edits meet Vocaloid wiki's policies and guidelines.  More subjects categorized here.

⚠
Console games
[
]
13-Sai no Hello Work DS
[
]
In 13-sai no Hellowork DS (Job Placement for the Age of 13), Nintendo DS, marked Miku's first appearance in a video game, she is included as one of the characters.
7th Dragon
[
]
7th Dragon 2020 and 7th Dragon 2020-II both feature opening songs written, composed and arranged by sasakure.UK and sung by Miku. The opening for 2020 is "SeventH-HeaveN" and the opening for 2020-II is "HeavenZ-ArmZ".[1] Miku appears in both games' opening animations. She is also featured in the games as a special NPC, appearing as the mysterious songstress "Hatsune Miku Type2021". By completing side-quests, the player can bring Miku to the game's main hub and unlock the "Diva Mode" BGM option, which adds Miku's vocals to the in-game soundtrack when selected. Diva Mode has music from 10 different producers: kiichi, Keeno, Clean Tears, Denpol-P, SHIKI, take, nak-ami, millstones, Lemm and Wonderlandica.[2][3]
Aikatsu!
[
]
Hatsune Miku's outfit (top/skirt, boots, and headphones) could be purchased in-game.[4]
Akiba's Trip
[
]
Acquire's Akiba's Trip: Undead and Undressed (Akiba's Trip 2 in Japan) features real landmarks and vendors that are located in Akihabara. This includes Dear Stage; the "home" of Tone Rion.
The item description for the leek makes a subtle reference to Miku, and an NPC has hair similar to hers.
Assetto Corsa Competizione
[
]
One of the Team Black Falcon's Mercedes-AMG GT3's liveries has Hatsune Miku wrap.
Demon Gaze
[
]
Both games in Kadokawa Games' Demon Gaze series feature a soundtrack comprised entirely of IA vocals. The Japanese version of the first game also features IA as a playable DLC character. Demon Gaze 2 allows players to toggle IA on or off depending on their preference.
Dynasty Warriors 8
[
]
The outfit design for Akikoloid-chan is used for the character Wang Yuanji in Koei's series Dynasty Warriors 8.
Hello Kitty's Magic Apron
[
]
Hello Kitty's Magic Apron, VOCALOID technology was used for the instructional songs during the cooking session.[5][6]
Idolmaster 2
[
]
Idolmaster 2, a visual novel. Miku was included within the game as part of the collaboration between this franchise and Project Diva game series. She appears singing "The World is Mine" and "Melt". Her costume is also unlockable.[7]
Just Dance
[
]
Songs featuring Miku have been featured four times in the Just Dance Franchise:
For Miku's international Just Dance debut, Ubisoft also provided a behind-the-scenes video in which they revealed that bringing one of her songs into their games was something they've wanted to do for a long time and also showed off the leek they used while motion capturing the dance choreography.[10]
Within the games themselves, each song is listed by just "Hatsune Miku" rather than by the actual artist with the exception of Just Dance Wii U.
Mabinogi
[
]
In the MMORPG game Mabinogi, costumes of four VOCALOIDs—Miku, Rin, Len and KAITO—are featured as limited-edition items. The player can wear these costumes, which include a wig, imitating the VOCALOID's look. The player can also obtain "Prefix Titles" of each VOCALOID's name, granting various buffs relating to a "Music-based skill".[11][12]
Metal Gear Solid: Peace Walker
[
]
The multi-platform game Metal Gear Solid: Peace Walker, an entry in the popular Metal Gear series by Konami, used VOCALOID-flex technology[13] (known in-game as netVOCALOID) for recording lines pre-set into Metal Gear ZEKE's AI. A number of songs voiced by the voicebank were featured in the game's DLC. The voicebank remains nameless.
The game's netVOCALOID features have since been discontinued.
Mainichi Issyo
[
]
Mainichi Issyo was a PS3 online game featuring SCEJ's mascot Toro Inoue, and his partner/sidekick in the Toro series Kuro. There was DLC content which had excessive advertising of the rhythm game Project Diva F, featuring Hatsune Miku. It included; Kagamine Rin & Len and Hatsune Miku posters which you could put in Toro's room, and also multiple episodes in the game of Toro and Kuro talking about the Project Diva F Modules, and also them talking to Hatsune Miku directly on their television.
Mamorukun Curse!
[
]
The PS3 version of this game features at least two VOCALOID covers. "Yo-Kai Disco -Vocaloid Edition-" plays when you hover over the game in the xmb menu. A VOCALOID cover of the song "Superhero" is also present in the game. It is not known which VOCALOID(s) are singing the covers.
Monster Hunter
[
]
CAPCOM began promotional videos for the collaboration between its Monster Hunter Frontier G online video game for the PC and Xbox 360 and virtual idol Hatsune Miku.[14]
No More Heroes: Desperate Struggle
[
]
In the No More Heroes universe, the main character, Travis Touchdown, is obsessed with moe mecha magical girl anime franchise called Pure White Lover Bizarre Jelly. Travis collects merchandise of the anime, such as posters, figurines, and body pillows. In the 2010 sequel No More Heroes: Desperate Struggle, there is a fictional video game called Pure White Giant Glastonbury, a shoot-em-up (taking heavy inspiration from the Touhou franchise) featuring characters from Bizzare Jelly. The chiptune-styled background music during the minigame features vocals by Hatsune Miku.[15]
PangYa
[
]
The Japanese version of the Korean free-to-play golf game PangYa had a campaign in May 2008 where players could buy a Miku costume for one of the in-game characters.
Persona 4: Dancing All Night
[
]
Miku makes a cameo as a DLC character, along with a remix of the Persona 4 song "Heaven" by ATOLS, using Miku V3 English. Her costume within the game was designed by Shinegori Soejima, and would later be released as a DLC module as "P4D Style" for Project Diva X, and was later included in Project Diva Arcade Future Tone and it's PS4 port.
Phantasy Star
[
]
In Phantasy Star Portable 2 on the PSP, certain passwords can be entered to unlock Miku's costume and hairstyle, as well as leek-themed weapons. In another bit of a fandom nod, each of the eight-digit passwords started with "3939."
Phantasy Star Online 2 also sports costumes and hairstyles for Miku, Rin, Len and Luka.
Syndicate
[
]
Syndicate is a first-person shooter video game developed by Starbreeze Studios and published by Electronic Arts for Microsoft Windows, PlayStation 3 and Xbox 360. It is a reboot of the Syndicate series of real-time tactical shooter games developed by Bullfrog Productions. In the level "Aspari Extraction" the player enters a club where he is attacked. The music that plays [16] uses Hatsune Miku, as the author said, "to give it a japanese feel" the author also stated that the lyrics are "Syndicate Classical Franchise Persuader Happy Minigun.
Taiko no Tatsujin
[
]
There have been multiple VOCALOID songs featured in this rhythm game series starting from the final DS game. Miku can show up as a guest character in some of the VOCALOID songs, and the player can acquire Miku customization items in Drum Session.
Tales of Graces
[
]
SoPhie has a Miku costume available as DLC in "Tales of Graces f" on the PS3. However, it was only made available in Japan.
Time Travelers
[
]
Miku's voicebank was later used as a threatening message call.
Tori no Hoshi ~Aerial Planet~
[
]
Tori no Hoshi: Aerial Planet is an Adventure game, developed and published by Nippon Ichi Software, which was released in Japan in 2008. It's soundtrack includes four image songs composed by Basiscape and performed by Hatsune Miku.
Transformice
[
]
In Transformice, an online game, a Hatsune Miku hairstyle was added as a purchasable item.[17]
Tokyo Mirage Sessions #FE
[
]
Tokyo Mirage Sessions #FE is a Shin Megami Tensei and Fire Emblem crossover RPG that touches on Japan's recording industry, and naturally includes references into the VOCALOID scene. Tiki, originally from the original Fire Emblem game, is portrayed as a popular virtual singer known in the game world as an "Uta-loid." (Singaloid in the Japanese version) Tiki's first character side-quest is similarly titled to Ika's Miku Miku ni Shite Ageru.
Kiria's carnage form hair is also an exact match to Hatsune Miku.
Yakuza 5
[
]
In Yakuza 5, PS3, Miku snow sculptures can be seen around town and you can win Miku toys from UFO catchers (like claw-arm games). When playing as the character Sawamura Haruka, you have the option to wear a Miku costume. Instead of getting into street fights, Haruka has dance "battles" that play like a rhythm game.[18]
Theme packs
[
]
Several VOCALOID related themes were added to the Japan 3DS theme shop, a number of which made it into the top 25 themes between 2-8 of November 2015. Theme packs related to Hatsune Miku: Project mirai DX have also been released in North America and Europe.
PlayStation 4 themes are also available for both Project Diva X and the port of Project Diva Arcade Future Tone. Only the theme for X is available in North America and Europe as of February 2017.
Indie games
[
]
Everlasting Summer
[
]
[1]Wikia (Russian Only)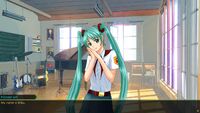 In the Russian visual-novel: Everlasting Summer, one of the main characters is a Japanese-Soviet pioneer named Hatsune Miku. The developers gave the character a personality connected to a human orchestra. The game has a romantic line with Miku.
Friday Night Funkin'
[
]
Hatsune Miku makes a cameo in the background of the first two tracks of Week 5. Additionally, there is a fan-made downloadable rival mod starring Miku that comes with four songs.[19] A mod featuring Kagamine Rin is available as well.[20]
In the game's official lore, Miku is said to be the sister of the protagonist, Boyfriend.[21]
Mighty Milky Way
[
]
In WayForward's Mighty Milky Way, the title theme is sung by Megurine Luka.
Recettear
[
]
In the Indie game Recettear, the skill icon for Nagi's "Hundred Trusts" resembles Miku.
Yandere Simulator
[
]
In Yandere Simulator, a game in which you are a Japanese high school girl ruining your "Senpai's" love life so you and only you can be with them, Miku's hairstyle is available for the main character by pressing H repeatedly. It is the 47th hairstyle in the game.
Apps Android and iOS
[
]
BanG Dream! Girls Band Party
[
]
Numerous VOCALOID songs, such as "Ii Aru Fanclub" and "Senbonzakura," have been covered by the game's bands. Additionally, the game has held VOCALOID collaboration events in which each band received themed costume sets to go along with a featured cover song. The album art for said songs also features VOCALOID characters (Miku, Rin, and Len) alongside the band members. Animated lyric videos - which emulate the songs' original MVs using the singers of the game's bands - were also made as part of the collaboration and can be viewed in-game. [22][23] A compilation album of all the game's covered VOCALOID songs, the Garupa Vocaloid Cover Collection, was released on December 16, 2020.
The seven collaboration event covers are:
Brave Frontier
[
]
In the mobile app Brave Frontier (a turn-based RPG app by game developers Alim and gumi Asia Pte. Ltd.), Hatsune Miku appears as a "collab" (cross-over) character which is obtainable through her special "Vortex" dungeon called "Songstress of Light". She is designated with the Earth element and has her V2 design as a 4-star form while her 5-star form uses her Append design. Her dungeon also plays Sharing The World, MIKU EXPO 2014's theme song.[24][25][26]
Megurine Luka was also included but is only obtainable via a special code obtained by players from the 2014 New York Comic Con booth of Brave Frontier. She is designated with the Dark element.[25][26]
By December 29, 2014, Kagamine Rin & Len joined the fray as "Rare Summons". They are designated with the Thunder and Light Element respectively.[27]
MEIKO and KAITO were also added, designated with the Fire and Water element respectively.
In the 2015 version of the event, Luka was added as well as a 6 star form for Miku featuring her V3 design. Her dungeon music was changed to "Hand in Hand" and her boss music to "Shiroi Yuki no Princess wa." The event also returned for Miku Expo 2016.
Chaos Fighters
[
]
In Chaos Fighters, a Chinese-based iOS app, you can unlock Miku-based content.[28]
Crash Fever
[
]
The collectible puzzle RPG Crash Fever ran a Hatsune Miku crossover promotion in February, 2017.[29]
Cytus
[
]
Cytus is a rhythm game developed by Rayark Games, an independent game developing corporation in Taiwan. Done in chapters- there are songs vocalized by Luka, Rin, Miku and GUMI.[30][31]
Tracklist
Endless Journey / Hoskey feat. Megurine Luka
LNS OP / Hoskey feat. Megurine Luka
COSMO / HAMO feat. Hatsune Miku
Dragon Warrior / Hoskey feat. Megurine Luka & Kagamine Rin
It's A Wonderful World / HAMO feat. Hatsune Miku
Her Sword / Hoskey feat. Megurine Luka
Code 03 / Hoskey feat. Megurine Luka
COMA / ensou feat. Gumi
In addition, the sequel, Cytus II, also has a collaboration with Miku featured as a paid limited partner. MIKU EXPO 2019 in Taiwan showcased a trial demo of the game. The songs included feature theme songs from other MIKU EXPO events.
Tracklist
Blue Star / 八王子P
BREAK IT / 雄之助
Miku / Anamanaguchi
Ten Thousand Stars / CircusP
Can't Make A Song!! / beat_shobon
Sharing The World / BIGHEAD
Venus di Ujung Jari / mohax
月西江 / SolPie
Cybernetics / 雄之助×CircusP
ラッキー☆オーブ / emon(Tes.)
ラッキー☆オーブ (3R2 REMIX) / 3R2
Glass Wall / GuitarHeroPianoZero
Decade / Dixie Flatline
Deemo
[
]
Deemo has the song "post-script" by the hoshizora project with YOHIOloid. It is so far the only VOCALOID song in the game.
D4DJ Groovy Mix
[
]
D4DJ Groovy Mix has enrolled some VOCALOID songs performed by D4DJ units and arranged by composers depending on music styles from D4DJ units.
Some of songs were performed in different official live performances before the official release for D4DJ Groovy Mix in Japan.
Genesis Masterwork Apocalypse
[
]
In Genesis Masterwork Apocalypse, an iOS/Android game developed by Chinese company Netease, Hatsune Miku, Kagamine Rin/Len and Megurine Luka are Limited event characters.
Line Play
[
]
In Line Play, there are several VOCALOID-themed items obtainable via gacha. Such gachas include Kagamine Rin/Len, Sakura Miku, Snow Miku 2014, Snow Miku 2015, Racing Miku 2014 and Magical Mirai 2015.
Magica Wars Taisen
[
]
An app game that features illustrated magical girl types, featured Hatsune Miku's persona, Snow Miku 2014.[32]
Muse Dash
[
]
A rhythm game available on PC and the Nintendo Switch featuring a few songs that use VOCALOIDs. Some examples are "Wonderful Pain" using Luo Tianyi, "Iyaiya" and "Shinsou Masui" using Hatsune Miku, and "NISEGAO" using multiple VOCALOIDs.
Tower of Saviors
[
]
The iOS/Android game Tower of Saviors held a Hatsune Miku collaboration in Septempber 2019 after 18.0 version update with featues below:
Unison League
[
]
The iOS/Android game Unison League held a Hatsune Miku collaboration event around the time of Magical Mirai 2016 where players could recruit the Cryptonloids for their parties as well as obtain related cosmetic items for their characters. The event lasted until mid-October 2016.[34] The game also held 3 more collaboration events around the time of Spring (Hanami) 2017, Magical Mirai 2017 as well as HATSUNE MIKU EXPO 2018 USA & MEXICO.[35][36][37]
Valkyrie Connect
[
]
The iOS/Android game Unison League held a Hatsune Miku collaboration event that lasted until July 26, 2017.[38][39] A second collaboration event was held around the time of HATSUNE MIKU EXPO 2018 EUROPE Concert Tour.[40]
VOEZ
[
]
The iOS/Android/Nintendo Switch rhythm game VOEZ features a small number of songs with VOCALOID vocals.
Browser games
[
]
Alteil
[
]
A story-driven, Flash-based online collectible card game produced by Dex Entertainment. A special promotion featured Miku.[41]
Rage of Bahamut
[
]
An online mobile card game, Rage of Bahamut features Miku in a special collaboration that lasted until February 14, 2014.[42]
References
[
]
[

]