🛠

This subject is work in progress.
Please bear with us while improvements are being made, and as soon as an editor is available to do so assume good faith until the edits are complete.
For information on how to help, see the guidelines.  More subjects categorized here.

🛠
'VOCALOID MUSIC PUBLISHING was a service offered by the VOCALOID STORE which aimed to support indie producer labels.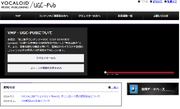 It was opened in 2011 and contained details of the upcoming indie Vocaloid labels or producers and their releases. It was run by UGC-PUB.
The service was closed in 2015, shortly before the VOCALOID STORE also closed.[1]
VOCALOID RECORDS
Edit
VOCALOID RECORDS was also associated with this page.
This was simply a page containing the list of indie Vocaloid record labels.[2]
References
Edit