VOCALOID for Education is a version of the VOCALOID editor aimed at children with an elementary and middle school level of education. It is possible for schools to purchase a license for use of the software.[1]
Trials for this version were planned for a summer 2016 release. The exact release date is unknown.
About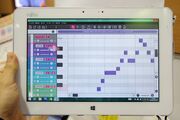 VOCALOID for Education was developed specifically for elementary and junior high school students. Using this version of the editor will allow children to create multiple melodies within the software without requiring the student to be able to read music in order to use it. The aim of the project is to introduce VOCALOID as a music education tool. Though VOCALOID itself and its iOS apps have made it into the classroom setting they were not intended to be educational tools. In comparison to other versions, the user interface resembles that of the regular VOCALOID editor but has a simpler design and features that are catered to children.
The project is designed with the hope that the VOCALOID editor on tablets and other mobile devices will further extend the comprehension of VOCALOID in education. It is also designed to take an advantage of the commitment of Japan to have a tablet for every school student class by 2020 and so far has been one of the few software to exploit the opportunity this goal has created.
It comes with VY1 as standard.
References
Community content is available under
CC-BY-SA
unless otherwise noted.