For other uses, see Xin Hua (disambiguation).
Xin Hua VOCALOID3 VOCALOID4 Japanese | Songs Albums Notable Originals
---
Xin Hua (Traditional Chinese: 心華; Simplified Chinese: 心华) is a Chinese-capable VOCALOID formerly developed by the YAMAHA Corporation in collaboration with Gynoid Co., Ltd.. She was initially distributed by Facio which was later replaced by Shanghai Wangcheng Information Technology Co. Ltd.. She was released in February 2015 for the VOCALOID3 engine.
She was updated to the VOCALOID4 engine and received Japanese voicebanks in September 2017.
She is voiced by Wenyi Wang (王文儀; Wáng Wényí), a Taiwanese voice acting apprentice.[2]
Concept
[
]
She is a high school student.
Etymology
[
]
Her name is rendered in traditional Chinese as "心華" (Xīn Huá), meaning "Elegant Heart". A second meaning could be "Heart Flower" or "Flowery Heart" as "華" is also an old variant of "花" and was known in ancient times as "the flower of a tree".[3] Another possible meaning of 華 is "Chinese / of Chinese descent", so when combined, her name would roughly translate to "Heart of Chinese descent" and utilizes the character, "华", in simplified Chinese.
Her Japanese name, "シンファ", is a representation of the Chinese pronunciation of her name.
It was later explained that her name derived from "桃之夭夭,灼灼其華", a line from the classic poem Tao Yao which translates to "The peach tree is young and elegant, brilliant are its flowers". Gynoid thought that a peach tree or blossom suited her cute concept and better represented the youth of a sixteen year old high school girl, thus she was given the name "Xin Hua". It was noted that they wanted the name to also fit the phrase "最美的風景是人心" ("the most beautiful scenery is the heart of people"). This is due to Taiwan being famous for its hospitality.[4]
Appearance
[
]
Xin Hua's pink dress was created to represent cuteness and youth. Blue frilled trimmings line the skirt of her dress. Located on her abdomen are four knobs. Under her dress, she wears a basic Taiwanese high school uniform, making her outfit double layered.[5] One of her notable accessories includes a pink beret that is the same color as her dress. There is a black and blue checkered scarf tied around her neck. Matching checkered fabrics tied in a similar fashion to her scarf are found on her wrists over her cuffs. On her thighs are two black bands with blue waveforms printed on them. She has black, low-heeled boots with white soles covering past her calves.
Her design for the V3 vocal bundled with the VOCALOID4 Editor for Cubase and her Japanese package utilize the same outfit as her normal V3 release but in a different color scheme. This was one of the conceptual color schemes VOFAN was testing for her.
Her VOCALOID4 outfit was designed by ZARD and is similar to the VOCALOID3 version with some significant changes. Her color scheme consists of purple, pink, blue, black, and white. Her yellow shirt from her VOCALOID3 design became white and frilly, and a black and blue ribbon is tied under the collar. She gained white gloves with black and blue ribbons tied at her wrists. She wears a black and blue choker rather than a scarf. Her dress received bows at the bottom front and the frills became less rounded and have sharper black and blue cuts. She is also holding a conductor's baton. According to Shanghai Wangcheng's article, her VOCALOID4 boxart themed around puzzles. ZARD wanted this to represent the idea of VOCALOID lovers using their own skills (puzzle pieces) to create and compose content.[6]
Relations
[
]
For more on VOCALOID relationships, see the FAQ.
History
[
]
Marketing
[
]
In January 2016, an event based on her 5th demo, "LET ME SING FOR YOU", was launched. There were certain areas mentioned within the lyrics of the song and if people traveled to the places that were mentioned and took photos there, they have the opportunity to submit their photos by posting them on Facebook with the tag "V-XinHua". In return, they would receive a transportation card with VOFAN's signature.[7]
In January 2016, Xin Hua's pet bear, Xiao Hua, was introduced. Xin Hua and Xiao Hua received their own set of LINE stickers.[8]
Xin Hua's VOCALOID3 and Japanese designs have official MMD models by Yamamoto.[9][10]
Gynoid did not give permission until the 4th April 2019 to allow works for her on Crypton Future Media, Inc.s "Piapro" website. As of this date, MEIKA Hime & Mikoto, as well as Xin Hua, can all be posted onto the site.[11]
Voicebanks
[
]
Xin Hua

The original Mandarin Chinese voicebank was made to be versatile within several genres of music. She has a Taiwanese accent. Changes between consequential versions resulted in some slight variations of the voice.
Xin Hua - NATURAL

This is the Japanese version of the Mandarin vocal though it has a slightly more mature sounding tone as well as behavioral differences.
Xin Hua - POWER

This vocal is similar to the "NATURAL" vocal, but has a more powerful tone.
Xin Hua Japanese, (VOCALOID4), September 22, 2017
Music featuring Xin Hua
[
]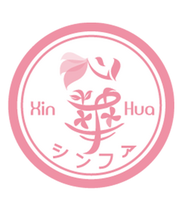 一人行者
| | |
| --- | --- |
| Translation | Yīrén Xíngzhě |
| Featuring | Xin Hua |
| Producers | |
| Categories | Original song |
野狗子
| | |
| --- | --- |
| Translation | Yakushi |
| Featuring | Xin Hua Japanese |
| Producers | Peg |
| Categories | Original song |
如见青山
| | |
| --- | --- |
| Translation | Rú Jiàn Qīngshān |
| Featuring | Xin Hua |
| Producers | Chaoxi-tide |
| Categories | Original song |
40歳くらいで死にたい。
Search for music featuring Xin Hua
[show/hide]
Reputation
[
]
Status
Google Trends
Sales
Her VOCALOID3 packages were first distributed through Taipei International Comics and Animation Festival (TICA) and was purchasable by customers who attended the event. Afterwards, she became available on the Facio Store, but the shop only sold goods to Taiwanese residents. It was stated in the F.A.Q. and payment sections of the shop that they charged extra shipping fees for people overseas, but when the process of checkout comes through, it was discovered that the customer needed a Taiwanese bank account, making her unavailable to overseas fans.[12] This affected her potential sales through overseas fans and those who wanted to purchase her needed to know someone from Taiwan who was willing to buy her for them.
Later in April 2015, her physical packages were put out for sale at the NicoNico Choukaigi event and were completely sold out.[13] It was also made known that it was possible to purchase her through the Facio store for both Taiwanese and Chinese fans. In order for a Chinese fan to buy Xin Hua and her products, the customer would need to contact Shanghai Wangcheng, an agent residing in Mainland China, and gain assistance from them.[14] Shanghai Wangcheng later developed their own taobao shop to make it easier for fans to buy her, along with other overseas VOCALOIDs, such as SeeU, Mew, Tone Rion, and more.
Reaction
Despite being the first VOCALOID to originate from Taiwan, Xin Hua did not initially raise as much attention as the Chinese VOCALOIDs before her. She also had competition with an UTAU released in 2014, XIA YU YAO, who also had Taiwanese origins. This UTAU was the character whom much of the Eastern fandom assumed was the rumored new Taiwanese virtual singer, when in reality, it was supposed to be Xin Hua. Eastern fans had preferred to listen to the UTAU rather than the new VOCALOID and even decided to portray the two as enemies or rivals. There were also early complaints about Xin Hua's accent, where both Taiwanese and Mainland fans had trouble understanding her. In addition to this, Xin Hua's announcement was very sudden, when she was revealed only a few weeks before she released. There was also not much promotion to market her more aside from the convention, the contest, the boxart, and the conceptual art.
After her release, Xin Hua had a rough start in regards to the number of songs produced. Due to being sold through the Facio store, she was restricted to Taiwanese fans, reducing the potential number of songs from overseas fans. Due to this, there were not many songs featuring her vocal aside from the demos that existed previously, with original and cover songs being produced slowly. It was not until the end of March 2015 that original songs were produced more often, which was owed to her Song Writing Contest and producers submitting works at the last minute. At this point in time, Xin Hua was starting to gain a little more popularity for herself. In addition, the competing rivalry between her and XIA YU YAO still existed, but started to dwindle a little at a time, eventually portraying the two as singing partners instead, boosting both characters' popularity.
In addition, some people have complained that, when pitched a bit higher, Xin Hua sounds similar to Luo Tianyi.
In January 2017, Xin Hua's second demo, "Mófǎ Xuánlǜ", reached 1 million views on its official YouTube upload. This is the first song featuring Xin Hua to receive 1 million views.
Trivia
Xin Hua is the first Chinese VOCALOID to have voice provider who was not from Mainland China, as her voice actor is from Taiwan. The previous Chinese-Language VOCALOIDs that were released or revealed before her all had voice providers who originated from China.
While Xin Hua was the first Chinese VOCALOID to release with a Japanese voicebank, Luo Tianyi was originally meant to be become bilingual in Mandarin and Japanese first, with both voicebanks to be released separately. However, her Japanese VOCALOID3 voicebank was never released and was repurposed for VOCALOID4. It was released in 2018 whereas Xin Hua Japanese released in 2017.
Achievements
First Chinese VOCALOID from Gynoid
First Chinese VOCALOID to be of Taiwanese origins
First Chinese VOCALOID to offer a starter pack
First Chinese VOCALOID to be available for Mac
First VOCALOID released by Shanghai Wangcheng
First Chinese VOCALOID to release as a digital download
First Chinese VOCALOID to be updated
First Chinese bilingual VOCALOID to be released
First bilingual VOCALOID from Gynoid
First Japanese voicebank provided by a Chinese provider
First Chinese VOCALOID to be displayed on the Japanese and English VOCALOID SHOP.
References
[
]
External links
[
]
| Language | Description | Site |
| --- | --- | --- |
| Chinese | Xin Hua official homepage | Link |
| Chinese | 心華 XinHua official Facebook | Link |
| Chinese | FACIO @acgfacio The official Twitter account for FACIO | Link |
| Chinese | Facio Acg official YouTube Channel | Link |
| Chinese | 心华XINHUA Official Weibo | Link |
| Chinese & Japanese | 心華Official @XinHuaOfficial Official Twitter | Link |
| English | deviantArt , art and media community | Link |
| Japanese | Pixiv , art and media community | Link |
[

]