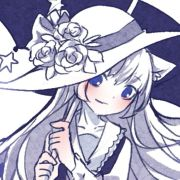 Affiliations
[
]
External links
[
]
Official
[
]
Unofficial
[
]
Yu Li (雨狸; Yǔ Lí), also known as SAKA and Mai (霾; Mái), is a Chinese lyricist who made her debut in November 2012. Her lyrics are regarded as excellent and high quality, and she tends to create dark and realistic works. She particularly excels at writing about the sufferings of the world through sharp lyrics, pointing out the current social psychology and phenomena, which provokes fans to discuss and think about the topics at hand. Later on, the proportion of positive lyrics gradually increased.
Yu Li had been writing lyrics long before the first Chinese VOCALOID was even released. Her first work was "Bérénice de Zhēnzhū" in 2011, and still prior to Luo Tianyi's release, she also created works such as "Tāotiè", but could not find a composer until she met DELA through a friend. It was then decided that the Saligia Series, which later became one of her most notable works, would be completed and she and DELA had been collaborating ever since. Another notable piece was the Paranoia Series, which also became one of the most popular Chinese VOCALOID series in 2016 due to its outstanding quality in all aspects.
On March 29, 2019, Yu Li became the eighteenth Chinese producer to reach 100,000 followers. She is also the voice provider of the X Studio virtual singer Vulpecula.
Her birthday is November 14, 1994, and she resides in the Netherlands.
Works
[
]
| Links | Title | Featuring | Date | Roles |
| --- | --- | --- | --- | --- |
| | "四角游戏" | Luo Tianyi | January 10, 2013 | lyrics |
| | "饕餮" | Luo Tianyi | January 13, 2013 | lyrics |
| | "明天" | Luo Tianyi | May 17, 2013 | lyrics |
| | "窄门" | Luo Tianyi | July 25, 2013 | lyrics |
| | "小丑" | Luo Tianyi | April 3, 2014 | lyrics |
| | "布娃娃Cryptolalia" | Luo Tianyi | July 17, 2014 | planning, lyrics, video |
| | "女王" | Luo Tianyi | August 14, 2014 | lyrics, video |
| | "蓝血贵族" | Luo Tianyi | June 21, 2015 | lyrics, illustrator, video |
| | "夜开荼蘼" | Luo Tianyi, YANHE | July 18, 2015 | lyrics |
| | "轮盘" | Luo Tianyi, Yuezheng Ling | August 1, 2015 | lyrics |
| | "时间之门" | Luo Tianyi, Yuezheng Ling | September 20, 2015 | lyrics |
| | "战狐" | Yuezheng Ling | November 5, 2015 | lyrics |
| | "一重加害" | Luo Tianyi, YANHE | November 28, 2015 | planning, lyrics |
| | "二重变革" | Luo Tianyi, YANHE | December 12, 2015 | planning, lyrics |
| | "火吻" | Yuezheng Ling | December 31, 2015 | lyrics |
| | "少女武神" | Luo Tianyi | January 7, 2016 | lyrics |
| | "三重爱恋" | Luo Tianyi, YANHE | January 28, 2016 | planning, lyrics |
| | "四重罪孽" | Luo Tianyi, YANHE, Yuezheng Ling | March 26, 2016 | lyrics |
| | "五重空洞" | Luo Tianyi, Yuezheng Ling | April 28, 2016 | lyrics, planning |
| | "风筝告别的前夜" | Luo Tianyi, YANHE, Yuezheng Ling, Xingchen | May 14, 2016 | lyrics, video editor |
| | "泠重乞愿" | Luo Tianyi | May 20, 2016 | planning, lyrics |
| | "生" | Luo Tianyi | June 17, 2016 | lyrics |
| | "亡灵旅行" | Luo Tianyi | July 21, 2016 | planning, lyrics |
| | "六重不忠" | Luo Tianyi, YANHE, Yuezheng Ling | August 5, 2016 | lyrics |
| | "那些我无法原谅的事" | Luo Tianyi, Yuezheng Ling | September 9, 2016 | planning, lyrics |
| | "自攻自受" | YANHE | September 30, 2016 | planning, lyrics |
| | "Weak Justice" | YANHE | October 14, 2016 | lyrics, planning |
| | "要不要长大" | Luo Tianyi, YANHE, Yuezheng Ling, Xingchen | November 11, 2016 | lyrics, planning |
| | "单翼飞翔" | Luo Tianyi | December 9, 2016 | lyrics |
| | "七重痼病" | Luo Tianyi, YANHE, Yuezheng Ling | December 16, 2016 | lyrics, planning |
| | "学霸必胜咒语" | Xingchen | January 7, 2017 | planning, lyrics |
| | "妄想PARANOIA" | Luo Tianyi, Yuezheng Ling, YANHE | January 28, 2017 | lyrics, planning |
| | "零重祈愿" | Yuezheng Ling | February 25, 2017 | planning, lyrics |
| | "八重回归" | Luo Tianyi, Yuezheng Ling | March 10, 2017 | planning, lyrics |
| | "九重现实" | Luo Tianyi, Yuezheng Ling | March 17, 2017 | planning, lyrics |
| | "迂回步" | Luo Tianyi, Yuezheng Ling | March 18, 2017 | lyrics |
| | "失乐园" | YANHE | March 25, 2017 | planning, lyrics |
| | "海市蜃楼" | Hatsune Miku V4 Chinese | December 1, 2017 | lyrics |
| | "神圣之名" | Xingchen | December 10, 2017 | lyrics |
| | "妄想Reality" | Luo Tianyi, Yuezheng Ling, YANHE | December 27, 2017 | lyrics |
| | "冷光" | Luo Tianyi, YANHE, Yuezheng Ling | January 13, 2018 | lyrics |
| | "Ace" | Mo Qingxian | February 21, 2018 | lyrics |
| | "Badgirlism" | Luo Tianyi, Yuezheng Ling, YANHE, Xingchen | April 1, 2018 | lyrics |
| | "辛德瑞拉的假面舞会" | YANHE, Yuezheng Ling | June 16, 2018 | lyrics, planning |
| | "亲爱的安徒生" | Luo Tianyi, Yuezheng Ling | November 1, 2018 | lyrics |
| | "塔之礼赞" | Luo Tianyi V4, YANHE, Yuezheng Ling, Mo Qingxian | November 30, 2018 | planning, lyrics, worldview, character setup |
| | "无重力少女" | Mo Qingxian | December 29, 2018 | planning, lyrics |
| | "一只黑黑的妖怪住进了我家" | YANHE | January 26, 2019 | lyrics |
| | "象牙塔少女" | Luo Tianyi V4 Meng | January 31, 2019 | planning, lyrics |
| | "我对孤独一无所知" | Luo Tianyi | January 31, 2019 | planning, lyrics |
| | "被抹去的女孩" | Hatsune Miku V4 Chinese | February 16, 2019 | lyrics, planning |
| | "被伪造的偶像" | Hatsune Miku V4 Chinese | February 21, 2019 | lyrics, planning |
| | "灰死病少女" | Luo Tianyi V4 Ning | March 29, 2019 | planning, lyrics |
| | "玻璃水母" | Xingchen | April 4, 2019 | lyrics |
| | "黑羊少女" | YANHE | May 24, 2019 | lyrics, planning |
| | "Rainy Bunny" | Luo Tianyi | June 14, 2019 | lyrics |
| | "逆天" | Luo Tianyi V4 (Ning), Yuezheng Ling | August 1, 2019 | planning, lyrics |
| | "顶层世界" | Yuezheng Ling | August 30, 2019 | lyrics |
| | "恶人是我" | Luo Tianyi, Yuezheng Ling | October 31, 2019 | lyrics |
| | "红石蒜少女" | Yuezheng Ling | November 28, 2019 | lyrics, planning |
| | "七年之痒" | Luo Tianyi, Yuezheng Ling, YANHE | January 10, 2020 | planning, lyrics, tuning |
| | "华夏巾帼志" | Luo Tianyi, Yuezheng Ling, Mo Qingxian, YANHE | March 8, 2020 | planning, lyrics, visual coordination |
| | "负能量绝缘体" | Luo Tianyi, Yuezheng Ling, YANHE, Mo Qingxian, Zhiyu Moke, Yuezheng Longya | June 10, 2020 | planning |
| | "她失去的重要的东西" | Luo Tianyi | June 27, 2020 | planning, lyrics |
| | "塔与少女的无题诗" | Luo Tianyi V4, Yuezheng Ling, YANHE, Mo Qingxian | October 4, 2020 | lyrics, planning |
| | "那些我恐惧至极的事" | Luo Tianyi V4, Yuezheng Ling | November 14, 2020 | lyrics, planning |
| | "噬光者与发光体的爱情" | Luo Tianyi, Yuezheng Ling | July 16, 2021 | lyrics |
| | "想入非非" | Luo Tianyi V4 Ning, YANHE, Yuezheng Ling | July 30, 2021 | planning, lyrics |
| | "沙城" | Zhiyu Moke | December 10, 2021 | lyrics |
| | "白噪" | Mo Qingxian | May 20, 2022 | lyrics |
Albums
[
]
Discography
[
]
Compilations
[
]
| Affiliation | Title | Featuring | Date | Roles |
| --- | --- | --- | --- | --- |
| Quadimension, Qingwen | "平行四界×轻文轻小说 EP Vol. 1" | Xingchen | July 20, 2016 | lyrics |
| uragis | "殿堂III" | Luo Tianyi, Yuezheng Ling, YANHE, Xin Hua, GUMI | February 22, 2017 | lyrics |
| Quadimension | "平行四界VI" | Luo Tianyi, YANHE, Yuezheng Ling, Xingchen, Hatsune Miku | April 25, 2018 | lyrics |
| Vsinger | "Lost in Tianyi" | Luo Tianyi | March 1, 2019 | lyrics |
| KuroNya | "唯Yi" | Luo Tianyi | May 4, 2019 | lyrics |
| Vsinger | "夜游会" | Yuezheng Longya | October 2, 2020 | lyrics |
| Vsinger x BEMOE | "Special Wishes 2021" | Luo Tianyi, YANHE, Yuezheng Ling, Yuezheng Longya, Zhiyu Moke, Mo Qingxian | December 11, 2021 | lyrics |