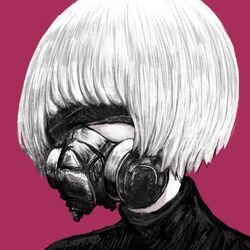 Affiliations
[
]
External links
[
]
Official
[
]
Unofficial
[
]
YurryCanon (ユリイ・カノン), born on December 21st[1], is a VOCALOID producer who started producing works since 2015. He mainly uses Hatsune Miku and GUMI. He specializes in rock, and often produces songs accompanied by high tempo and high key.
After his fourth work, Odoryanse became a hit, his later songs constantly entered the Hall of Fame.
Currently, his most notable works are Dareka no Shinzou ni Nareta Nara and Odoryanse, both having entered the Hall of Legend.
In 2020, he formed the band Tsukuyomi (月詠み) along with vocalist mikoto, guitarist Epoch, and bassist Toukasa.
YurryCanon does NOT permit unauthorized reprints of his videos.
Works
[
]
| Links | Title | Featuring | Date | Roles |
| --- | --- | --- | --- | --- |
| | "あしたは死ぬことにした" | Hatsune Miku | November 26, 2015 | music, lyrics |
| • | 或いはテトラの片隅で (Arui wa Tetra no Katasumi de) | GUMI | May 29, 2016 | music, lyrics |
| • | 金稼ぎのロジック (Kane Kasegi no Logic) | GUMI | August 31, 2016 | music, lyrics |
| | "おどりゃんせ" | Hatsune Miku and GUMI | October 26, 2016 | music, lyrics, video |
| | "ベロニカ" | Hatsune Miku | December 23, 2016 | music, lyrics, video |
| • | センチメンタルキネマ (Sentimental Kinema) | Hatsune Miku | January 27, 2017 | music, lyrics |
| • | 或いはテトラの片隅で(retake ver.) (Arui wa Tetra no Katasumi de (retake ver.)) | GUMI | March 30, 2017 | music, lyrics |
| | "まほろば少年譚" | Hatsune Miku and GUMI | April 20, 2017 | music, lyrics, video |
| • | エレ・アヴァンギャルド (Elle est Avant-garde) | Hatsune Miku | June 15, 2017 | music, lyrics |
| | "スーサイドパレヱド" | GUMI | July 18, 2017 | music, lyrics, video |
| | "撫子色ハート" | Hatsune Miku and GUMI | October 11, 2017 | music, lyrics, video |
| | "トーデス・トリープ" | GUMI | December 01, 2017 | music, lyrics, video |
| | "だれかの心臓になれたなら" | GUMI | February 12, 2018 | music, lyrics, video |
| | "ケセラリズム" | GUMI | June 27, 2018 | music, lyrics, video |
| | "ばけものぐるい" | GUMI | July 16, 2018 | music, lyrics, video |
| • | ユーベルコード (Ubel Code) | GUMI | October 26, 2018 | music, lyrics |
| • | 人間らしい (Ningen Rashii) | GUMI | April 25, 2019 | music, lyrics |
| • | EgoもIdも単純に (Ego mo Id mo Tanjun ni) | GUMI | September 07, 2019 | music, lyrics |
| • | 少女地獄 (Shoujo Jigoku) | GUMI | September 28, 2019 | music, lyrics |
| • | キャスティングミス (Casting Miss) | GUMI | January 05, 2020 | music, lyrics |
| • | 対象x (Taishou X) | GUMI | February 02, 2020 | music, lyrics |
| • | シアトリカル・ケース (Theatrical Case) | GUMI, flower | May 05, 2020 | music, lyrics |
| • | あしゅらしゅら (Ashura Shura) | GUMI | June 26, 2020 | music, lyrics |
| • | 御気ノ毒様 (Okinodoku-sama) | flower | March 03, 2021 | music, lyrics |
Albums
[
]
Discography
[
]
| Affiliation | Title | Featuring | Date | Roles |
| --- | --- | --- | --- | --- |
| Dwango User Entertainment, Inc. | Kardia | GUMI, Hatsune Miku | November 18, 2018 | music, lyrics |
| Pony Canyon | 人間劇場 (Ningen Gekijou) | GUMI, flower, Hatsune Miku | March 03, 2021 | music, lyrics |
Singles
[
]
| Affiliation | Title | Featuring | Date | Roles |
| --- | --- | --- | --- | --- |
| Independent | おどりゃんせ (Odoryanse) | Hatsune Miku, GUMI | October 26, 2016 | music, lyrics |
| Independent | ベロニカ (Veronica) | Hatsune Miku | December 23, 2016 | music, lyrics |
| Independent | センチメンタルキネマ (Sentimental Kinema) | Hatsune Miku | January 27, 2017 | music, lyrics |
| Independent | まほろば少年譚 (Mahoroba Boys Tale) | GUMI, Hatsune Miku | April 19, 2017 | music, lyrics |
| Independent | スーサイドパレヱド (Suicide Parade) | GUMI | July 18, 2017 | music, lyrics |
| Independent | 撫子色ハート (Nadeshiko color Heart) | GUMI, Hatsune Miku | October 11, 2017 | music, lyrics |
| Independent | 人間らしい (Humanly) | GUMI | June 05, 2019 | music, lyrics |
| Independent | 少女地獄 (Shoujo Jigoku) | GUMI | March 25, 2020 | music, lyrics |
| Independent | 対象x (Taishou x) | GUMI | March 25, 2020 | music, lyrics |
Compilations
[
]
| Affiliation | Title | Featuring | Date | Roles |
| --- | --- | --- | --- | --- |
| EXIT TUNES | "EXIT TUNES PRESENTS Vocaloseasons feat. 初音ミク ~Summer~" | Hatsune Miku, GUMI, IA, Kagamine Len, and Kagamine Rin | July 18, 2018 | music, lyrics |
| EXIT TUNES | "EXIT TUNES PRESENTS Vocalostream feat. 初音ミク" | Hatsune Miku, GUMI, Kagamine Rin, Kagamine Len, IA, flower, Megurine Luka, Camui Gackpo, KAITO, MEIKO, and MAYU | March 20, 2019 | music, lyrics |
| EXIT TUNES | "EXIT TUNES PRESENTS GUMIssimo from Megpoid ―10th ANNIVERSARY BEST―" | GUMI | June 19, 2019 | music, lyrics |
| EXIT TUNES | "SPACE DIVE!! feat. GUMI from Megpoid" | GUMI | July 17, 2020 | music, lyrics |
Interviews
[
]
Gallery
[
]
References
[
]