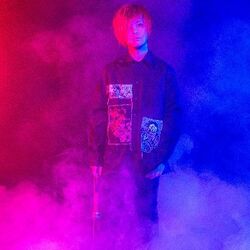 Affiliations
[
]
Draw the Emotional (with meola)
Yoyuyuppa
External links
[
]
Official
[
]
Unofficial
[
]
Yuyoyuppe (ゆよゆっぺ) is a Japanese producer known for his hard rock and metalcore music.
Yuyoyuppe was born in September 25, 1989 in Ibaraki Prefecture, Japan.[1]. He debuted in the VOCALOID field in September 2008, and has been a leading figure in the VOCAROCK genre since. His works usually receive tens of thousand of views when uploaded.
Yuyoyuppe mainly uses Megurine Luka, and has earned the title "Legendary Luka Master" in several of his works such as "EMPTY" and "Suffocation". He also often uses Hatsune Miku. Yuyoyuppe's notable song is Leia, which has entered the Hall of Legend.
In September 2009, he formed the doujin circle Draw the Emotional with meola, who is in charged of music video production.
In April 2014, he released a song series sung by Luka and Miku called VOCALO HOLIC.
He goes under the name Yuyoyuppe for his songs of the rock genre, and DJ'TEKINA//SOMETHING for his songs of a pop/techno style. He self-covers many of his songs, alongside some other covers. He is also known to write and arrange songs for the popular metal-idol band BABYMETAL.
Yuyoyuppe is the frontman of the band GRILLED MEAT YOUNGMANS, which was renamed to N.I.C.K (Naked Identity Created by King) in 2019. Yoyuyuppa, his younger brother and a fellow VOCALOID producer, is also a member of this band.
In March 2021, along with voice actor Shinichirou Kamio, he established KATARI, a unit that combines music and pure literature.[2]. He uses the alias Mamiya Takehiro (間宮丈裕) for his work in KATARI.
Works
[
]
Links
Title
Featuring
Date
Roles
•

My little hart

Hatsune Miku
September 11, 2008
music, lyrics
•

この空の彼方 (Kono Sora no Kanata)

Hatsune Miku
September 19, 2008
music, lyrics
•

悲しいという気持ち (Kanashii to iu Kimochi)

Hatsune Miku
October 17, 2008
music, lyrics
"+BE MY SACRIFICE+"
Hatsune Miku
November 8, 2008
music, lyrics
•

My Fxxkin Desire For You

Hatsune Miku
November 13, 2008
music, lyrics
•

偽りのKESHIKI (Itsuwari no KESHIKI)

Hatsune Miku
November 22, 2008
music, lyrics
•

Emotion&Reason

Hatsune Miku
December 16, 2008
music, lyrics
"Hope"
Hatsune Miku
January 22, 2009
music, lyrics
•

Despair

Hatsune Miku
January 25, 2009
music, lyrics
•

Final Reason

Hatsune Miku
April 07, 2009
music, lyrics
"Palette"
Megurine Luka
April 23, 2009
music, lyrics
•

破壊衝動と生命についての考察 (Hakai Shoudou to Seimei ni Tsuite no Kousatsu)

Hatsune Miku
May 02, 2009
music, lyrics
•

You and beautiful world

Megurine Luka
May 22, 2009
music, lyrics
•

陽だまりの詩 (Hidamari no Shi)

Hatsune Miku
May 30, 2009
music, lyrics
•

Lost Story

Hatsune Miku
June 13, 2009
music, lyrics
"「S」"
Megurine Luka
July 26, 2009
music, lyrics
•

EMPTY

Megurine Luka
August 07, 2009
music, lyrics
"For a Dead Girl+"
Megurine Luka
September 19, 2009
music, lyrics
"7/8"
Megurine Luka
November 19, 2009
music, lyrics
•

Psychopath

Megurine Luka
November 22, 2009
music, lyrics
•

脳内彼女。 (Nounai Kanojo.)

Hatsune Miku
December 05, 2009
guitar
"ALONE"
Megurine Luka
December 15, 2009
music, lyrics
•

Blue

Hatsune Miku
January 04, 2010
music, lyrics
•

falldown

Hatsune Miku
January 14, 2010
guitar
•

-ELIS-

Megurine Luka
January 15, 2010
music, lyrics
•

Emotion & Reason (remastered)

Hatsune Miku
March 16, 2010
music, lyrics
•

めいめろ (Meimero)

Hatsune Miku
May 01, 2010
music, lyrics
•

Suffocation

Hatsune Miku
May 07, 2010
music, lyrics
•

I am a super man.

Megurine Luka
June 30, 2010
music, lyrics
"cry"
Megurine Luka
September 29, 2010
music, lyrics
•

Ambiguous Journey

Hatsune Miku
November 02, 2010
music, lyrics
"Thunder Girl"
Megurine Luka
December 1, 2010
music, lyrics
"Leia"
Megurine Luka
January 1, 2011
music, lyrics
•

I will find a star

GUMI
July 12, 2011
music, lyrics
"Line"
Mew
September 14 2011 (album)
November 24, 2011 (YT)
music, lyrics
"カミノコトバ"
Hatsune Miku Append
August 15, 2011
music, lyrics
•

Can you feel the purple truth

Megurine Luka
September 17, 2011
music, lyrics
•

秘密 (Himitsu)

Megurine Luka
May 21, 2012
arrangement
"Reon"
Megurine Luka
June 4, 2012
music, lyrics
"Story of Hope"
Megurine Luka
September 25, 2012
music, lyrics
•

who am I?

Kagamine Rin
December 01, 2012
music, lyrics
"Lilily☆Nation"
Lily
February 2, 2013
music, lyrics
•

Sky is the limit

Lily
May 24, 2013
music, lyrics
"Rock'n'Roll Riot"
Megurine Luka
August 27, 2013
music, lyrics
•

Over the limit

IA
December 10, 2013
music, lyrics
•

Draw Your Night

Hatsune Miku
December 28, 2013
music, lyrics
None
"faraway"
Ryuto
December 29, 2013 (album)
producer
•

唯心論 (Yuishinron)

Megurine Luka
March 16, 2014
music, lyrics
"ぼかろほりっく"
Megurine Luka
April 9, 2014
music, lyrics, arrange
"遥か彼方へ"
Megurine Luka
July 11, 2014
music, lyrics
"Twinkle World"
Hatsune Miku
August 11, 2014
guitar
"Break Out!"
flower
September 18, 2014
music, lyrics
•

WASSHOI~俺達の考える最強の祭ソング~ (WASSHOI ~Oretachi no Kangaeru Saikyou no Matsuri Song~)

Hatsune Miku, Megurine Luka, Kagamine Rin
September 27, 2015
music, lyrics
•

SHAKE BODY~俺達の考える最強の失恋ソング~ (SHAKE BODY ~Oretachi no Kangaeru Saikyou no Shitsuren Song~)

Hatsune Miku, Megurine Luka, Kagamine Rin
February 14, 2016
music, lyrics
•

Wolf

Hatsune Miku
April 12, 2017
music, lyrics
"ハンドメイド・アニバーサリー"
Hatsune Miku
September 1, 2017
music, lyrics
•

Misery

Megurine Luka
October 05, 2018
music, lyrics
"Leia - Remind"
Megurine Luka
October 27, 2018
music, lyrics
•

Canvas

Megurine Luka
November 03, 2018
music, lyrics
"Reon - Remind"
Megurine Luka
November 10, 2018
music, lyrics, arrangement
•

Gerbera

Megurine Luka
November 16, 2018
music, lyrics
"Hope TEKINA Remix"
Hatsune Miku
January 20, 2019
music, lyrics, arrangement
"Never Die"
Megurine Luka
January 30, 2019
music, lyrics
•

dull

Hatsune Miku, Megurine Luka
May 14, 2020
music, arrangement
•

サヨナラジオ (Sayonarajio)

Hatsune Miku, Megurine Luka
June 26, 2020
music, lyrics
•

vivid

Hatsune Miku, Megurine Luka
December 11, 2020
music, arrangement
"「Leia」 TEKINA//Remix"
Megurine Luka
March 09, 2021
music, lyrics
Albums
[
]
Discography
[
]
| Affiliation | Title | Featuring | Date | Roles |
| --- | --- | --- | --- | --- |
| Draw the Emotional | Solitude Freak | Hatsune Miku, Megurine Luka | September 6, 2009 | music, lyrics |
| Draw the Emotional | For a sick boy | Hatsune Miku | February 07, 2010 | music, lyrics |
| Draw the Emotional | I'm | Kagamine Rin, Hatsune Miku, Megurine Luka | May 09, 2010 | music, lyrics |
| Draw the Emotional | Planetary suicide | Hatsune Miku, Megurine Luka | January 16, 2011 | music, lyrics |
| My Eggplant Died Yesterday, VOCALOID RECORDS | Story of Hope | Hatsune Miku, Megurine Luka | September 26, 2012 | music, lyrics |
| FlyingDog | ぼかろほりっく (VOCALO HOLIC) | Hatsune Miku, Megurine Luka | July 16, 2014 | music, lyrics, vocal |
| Draw the Emotional | Draw | Megurine Luka | December 30, 2018 | music, lyrics |
| TOY'S FACTORY | "Graphix" | Hatsune Miku, Kagamine Rin, and Megurine Luka | August 28, 2019 | music, arrangement |
Split album
[
]
| Affiliation | Title | Featuring | Date | Roles |
| --- | --- | --- | --- | --- |
| KARENT | Draw the Emotional × AVTechNO! | Hatsune Miku | February 23, 2011 | music, lyrics, arrangement |
| ZANEEDS | Viet-Viet-Vietnam! | Hatsune Miku | July 26, 2013 | music, lyrics |
E.Ps
[
]
| Affiliation | Title | Featuring | Date | Roles |
| --- | --- | --- | --- | --- |
| Independent | MIKUREAMO EP | Hatsune Miku | January 13, 2009 | music, lyrics |
| Draw the Emotional | Dear (album) | Megurine Luka | November 15, 2009 | music, lyrics |
| Plug::8, Call the Emotional | "YUYOYU EP" | Megurine Luka, Hatsune Miku, and Yuyoyuppe | August 11, 2012 | producer |
Compilations
[
]
| Affiliation | Title | Featuring | Date | Roles |
| --- | --- | --- | --- | --- |
| Under-20 CD Project | imparfait | Hatsune Miku, KAITO, Kagamine Rin & Len, Megurine Luka | November 15, 2009 | music, lyrics |
| V.L.P. | V.L.P | Hatsune Miku, Megurine Luka, GUMI | May 09, 2010 | music, lyrics |
| FARM RECORDS | "VOCAROCK collection feat. 初音ミク" | Hatsune Miku, Kagamine Rin, and Megurine Luka | July 21, 2010 | music, lyrics |
| creazuma | "Try!" | Hatsune Miku, Kagamine Len, Kagamine Rin, GUMI, Megurine Luka, Camui Gackpo, and BIG AL | August 14, 2010 | music, lyrics |
| VOCALOUD × XIII SESSIONS | VOCALOUD × XIII SESSIONS | Hatsune Miku, Megurine Luka, GUMI | November 14, 2010 | music, lyrics |
| FARM RECORDS | "VOCAROCK collection 2 feat. 初音ミク" | Hatsune Miku, Kagamine Rin, and Megurine Luka | December 15, 2010 | music, lyrics |
| TamStar Records | "supercell tribute ~Stowaways~" | Hatsune Miku and Megurine Luka | December 29, 2010 | music, lyrics |
| Akiba Koubou, Dreamusic Incorporated | VOCALO LOVERS feat. 初音ミク | Hatsune Miku, Megurine Luka, Kagamine Rin & Len, KAITO, MEIKO | March 02, 2011 | music, lyrics |
| YAMAHA Corporation, VOCALOID RECORDS | "The VOCALOID" | MEIKO, KAITO, Hatsune Miku, Kagamine Rin & Len, Camui Gackpo, Megurine Luka, GUMI, Kaai Yuki, Hiyama Kiyoteru, SF-A2 miki, Lily, VY1, Ryuto, Nekomura Iroha, Utatane Piko, VY2, and Mew | September 14, 2011 | music, lyrics |
| FARM RECORDS | "VOCAROCK collection 3 feat. 初音ミク" | Hatsune Miku, Kagamine Rin, Megurine Luka, GUMI, and Kagamine Len | December 7, 2011 | music, lyrics |
| Full Moon, Akiba Koubou | VOCALO SMILE feat. 初音ミク | Hatsune Miku, MEIKO | January 18, 2012 | music, lyrics |
| Full Moon, Akiba Koubou | VOCALO TEARS feat. 初音ミク | Hatsune Miku | January 18, 2012 | music, lyrics |
| YAMAHA MUSIC COMMUNICATIONS, VOCALOID RECORDS | "Happy Party☆彡 -VOCALOID3 Megpoid(GUMI)-" | GUMI | March 14, 2012 | music, lyrics |
| Plug::8 | Electric Love Collection | Hatsune Miku | April 28, 2012 | arrangement |
| avex trax, VOCALOID RECORDS, YAMAHA MUSIC COMMUNICATIONS, Inc. | VOCALOUD 00 | Hatsune Miku, Megurine Luka, Kagamine Rin | June 27, 2012 | music, lyrics |
| EXIT TUNES | "EXIT TUNES PRESENTS Megurhythm feat. 巡音ルカ" | Megurine Luka | July 18, 2012 | music, lyrics |
| FARM RECORDS | "VOCAROCK collection 4 feat. 初音ミク" | GUMI, Hatsune Miku, IA, Kagamine Rin, Megurine Luka, and Kagamine Len | November 28, 2012 | music, lyrics |
| TEAM Entertainment | "IA THE WORLD ~影~" | IA | December 26, 2012 | music, lyrics |
| MOtOLOiD | "Choremix" | Megurine Luka, Hatsune Miku, Kagamine Rin, and GUMI | December 31, 2012 | original music, arrange, lyrics |
| 2D M3NTiON | at First Sight | Kagamine Rin & Len, Hatsune Miku | February 06, 2013 | music, lyrics |
| Independant | "ボカロバラード・セレクション" | Hatsune Miku, Megurine Luka, and Kagamine Len | March 20, 2013 | music, lyrics |
| avex trax | "VOCALOID3 meets TRF" | GUMI, Lily, VY1, IA, Mew, and Aoki Lapis | March 27, 2013 | arrange |
| avex trax | "青春ボカロ starring GUMI, Lily" | GUMI and Lily | June 19, 2013 | music, lyrics |
| FARM RECORDS | "VOCAROCK collection love IA" | IA | July 3, 2013 | music, lyrics |
| 1st PLACE, IA PROJECT, Sony Music Entertainment Japan | CiRCUiT BEATS -SUPER GT 20th ANNIVERSARY- | IA | October 30, 2013 | music, lyrics |
| VOCALOID RECORDS, YAMAHA MUSIC COMMUNICATIONS, Inc. | ボカ☆フレ!2 - VOCALOID™ FRESHMEN 2- (VOCA☆FRE! 2 -VOCALOID™ FRESHMEN 2-) | Hatsune Miku, Kagamine Rin. GUMI, IA | November 13, 2013 | music, lyrics |
| Dwango User Entertainment, Inc. | "初音ミク -Project DIVA Arcade- Original Song Collection Vol.3" | Hatsune Miku, Kagamine Len, Kagamine Rin, Megurine Luka, MEIKO, and KAITO | December 18, 2013 | music, lyrics |
| Sony Music Entertainment Japan | "VOCA NICO☆PARTY" | Hatsune Miku, Kagamine Len, Kagamine Rin, GUMI, Megurine Luka, IA, KAITO, MEIKO, Yuzuki Yukari, Lily, and VY2 | December 25, 2013 | music, lyrics |
| FARM RECORDS | "VOCAROCK collection 5 feat. 初音ミク" | GUMI, Hatsune Miku, IA, Kagamine Len, Kagamine Rin, and Megurine Luka | December 25, 2013 | music, lyrics |
| TamStar Records | "TamStar Records presents ALL VOCALOID ATTACK #2" | GUMI, IA, KAITO, Lily, Ryuto, VY2, and Aoki Lapis | December 29, 2013 | music, lyrics |
| YAMAHA MUSIC COMMUNICATIONS, Inc. | VOCALOUD 01 - Breaking of the Emotion - | Hatsune Miku, Megurine Luka, GUMI, Kagamine Rin | March 12, 2014 | music, lyrics |
| EXIT TUNES | "EXIT TUNES PRESENTS Vocalospace feat. 初音ミク" | Hatsune Miku, GUMI, Kagamine Len, Megurine Luka, Kagamine Rin, MEIKO, MAYU, IA, Camui Gackpo, and KAITO | September 3, 2014 | music, lyrics |
| Gynoid Co., Ltd. | debut | flower | October 01, 2014 | music, lyrics |
| ASCII Media Works | MIKU-Pack 11 Song Collection "Snow Magic" | Hatsune Miku, Megurine Luka | January 15, 2015 | music, lyrics |
| SEGA, Sony Music Entertainment | "初音ミク Project DIVA X -Complete Collection-" | Hatsune Miku, Kagamine Rin, Kagamine Len, Megurine Luka, MEIKO, KAITO | June 8, 2016 | music, lyrics |
| TOY'S FACTORY | "VOCALOID 夢眠ネム" | Yumemi Nemu | July 5, 2017 | music, lyrics |
| EXIT TUNES | "EXIT TUNES PRESENTS Megurinemotion feat. Megurine Luka" | Megurine Luka | January 30, 2019 | music, lyrics |
| KARENT | "巡音ルカ 10th Anniversary - Fabulous∞Melody -" | Megurine Luka | January 30, 2019 | music, lyrics |
| SEGA, Crypton Future Media, Inc. | "初音ミク Project DIVA MEGA39's 10th アニバーサリーコレクション" | Hatsune Miku, Kagamine Rin, Kagamine Len, Megurine Luka, MEIKO, KAITO | February 13, 2020 | music, lyrics, arrange |
Gallery
[
]
References
[
]
External links
[
]
Interviews
[
]