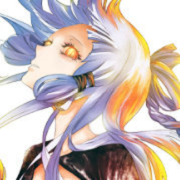 Affiliations
[
]
External links
[
]
Official
[
]
Unofficial
[
]
Zeno, also known as Zeno-P, is a Chinese producer who made his debut in July 2012. He specializes in Pop rock and his most notable work is "Ripple".
For vocal production, he was the audio engineer for Beijing Photek S&T Development Co., Ltd.'s Synthesizer V vocals Shian, Cangqiong, and Haiyi.
His birthday is October 12, and he resides in Xiamen, Fujian.
Works
[
]
| Links | Title | Featuring | Date | Roles |
| --- | --- | --- | --- | --- |
| | "蔷薇革命" | Luo Tianyi | May 16, 2013 | tuning |
| | "D!sappear" | Luo Tianyi | December 12, 2013 | music, lyrics, illustrator |
| | "渊之心" | Xingchen | November 4, 2016 | music |
| | "雪之花" | Xingchen | January 26, 2017 | music, mixing, tuning, lyrics |
| | "D!scolor" | Xingchen | May 26, 2017 | music, lyrics |
| | "涟漪" | Haiyi, Xingchen | February 13, 2018 | lyrics, compose, arrange, tuning |
| | "玻璃做的少女" | Xingchen | April 13, 2018 | tuning, compose, arrange, mixing |
| | "浅滩" | Haiyi, Xingchen | June 28, 2018 | lyrics, compose, arrange, tuning |
| | "人偶之梦" | Xingchen | August 3, 2018 | tuning, lyrics, compose, arrange, mixing |
| | "泪之诗" | Xingchen | August 18, 2018 | tuning, lyrics, compose, arrange, mixing |
| | "心的葬礼" | Xingchen | September 30, 2018 | tuning, lyrics, compose, arrange, mixing |
| | "分裂症-a∈A-" | Haiyi, Xingchen | November 17, 2018 | tuning |
| | "渡桥挽歌~soul leaving~" | Xingchen | June 28, 2019 | tuning |
| | "无色" | Xingchen, Haiyi, Cangqiong | September 13, 2019 | tuning |
| | "Misty Party" | Xingchen, Chiyu, Shian | January 3, 2020 | tuning |
| | "Final⇆Endless" | Xingchen, Cangqiong | January 10, 2020 | tuning, mixing |
| | "斑驳" | Xingchen, Haiyi, Chiyu | May 1, 2020 | compose, arrange, lyrics, tuning |
| | "光" | Xingchen | August 12, 2021 | mixing |
Albums
[
]
Discography
[
]
Compilations
[
]
| Affiliation | Title | Featuring | Date | Roles |
| --- | --- | --- | --- | --- |
| Quadimension | "平行四界II" | Luo Tianyi | November 20, 2014 | compose, lyrics |
| Quadimension | "平行四界 3" | Luo Tianyi, Yuezheng Ling, Yuzuki Yukari | July 15, 2015 | compose, lyrics |
| Quadimension | "平行四界 4" | Luo Tianyi, Yuezheng Ling | December 12, 2015 | compose, arrange, tuning, lyrics, mixing |
| Quadimension | "平行四界V" | Luo Tianyi, Yuezheng Ling, Xingchen | July 10, 2016 | compose, arrange, lyrics, tuning, mixing |
| Quadimension | "星语" | Xingchen | February 28, 2017 | compose, lyrics |
| Quadimension | "平行四界LIVE TOUR OFFICIAL ALBUM" | Xingchen | September 15, 2017 | compose, lyrics |
| Quadimension | "平行四界VI" | Luo Tianyi, YANHE, Yuezheng Ling, Xingchen, Hatsune Miku | April 25, 2018 | compose, arrange, lyrics |
| Beijing Photek S&T Development Co., Ltd. | "星之海" | Xingchen, Haiyi | May 11, 2018 | compose, arrange, lyrics, tuning |
| Medium⁵ | "天方夜谭" | Xingchen, Haiyi, Cangqiong | May 5, 2019 | compose, arrange, tuning, mixing |
| Medium⁵ | "天马行空" | Xingchen, Chiyu, Shian | August 6, 2019 | compose, arrange, lyrics, tuning |
| Medium⁵ | "森罗万象" | Xingchen, Chiyu, Haiyi | October 6, 2019 | compose, arrange, lyrics, tuning |
| Medium⁵ | "丛林法则" | Xingchen, Shian, Cangqiong | February 28, 2020 | compose, arrange, lyrics, tuning |
| Quadimension | "FM40.4" | Xingchen | March 30, 2020 | compose, arrange |
| Medium⁵ | "吉光片羽" | Xingchen, Chiyu, Cangqiong | June 12, 2020 | compose, arrange, lyrics |
| Medium⁵ | "海纳百川'" | Xingchen, Shian, Haiyi | December 20, 2020 | compose, arrange, lyrics |
| Beijing Photek S&T Development Co., Ltd. | "平行四界 X-1'" | Xingchen, Chiyu, Shian, Cangqiong, Haiyi, Muxin, Minus | June 4, 2021 | compose, arrange, lyrics, tuning |