!

This marketing article is for Zero-G Limited,
Additions to this page must pertain to the subject. For information on how to help, see the guidelines.  More subjects categorized here.

!
An official mini poster of SONiKA was released by Zero-G.
---
Prima, SONiKA, Tonio, and AVANNA were distributed by E-Capsule. Prima, Sonika, and Tonio received promoted designs by Taiwanese artists.
---
SONiKA also had a comic uploaded onto her website.
From November 2, 2009 to November 30, 2009. Zero-G announced a competition to give SONiKA a new look. The winner would receive a copy of the "SONiKA VOCALOID2 Software".[1][2]
Nearing the end of November an image was uploaded on Crypton Catalog that represented SONiKA's new appearance. It was drawn by artist Mario Wibisono (aka raynkazuya) at the request of Zero-G.[3] And with the image being found during the New Look Competition and uploaded to Zero-G's site a few days later, this greatly confused fans and submitters who thought that it was the winning entry.[4]
This was quickly corrected by Zero-G stating that the competition rules never included the winning image being used for boxart.[5]
She also had a song competition in 2010, the winner would received whatever Zero-G VOCALOID2 voicebank they desired. The winner was Daniel Castro with the song "U Know It (My Name Is SONiKA)".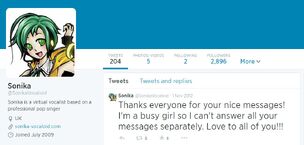 Following her release Zero-G took a unique stance with her post-release development. They have created and maintained a Twitter page for SONiKA, something unheard of for any past VOCALOID. Tweets have included pictures of herself with a different hair color, announcing her favorite food is sashimi tuna, and announcing upcoming interviews in media articles. She has even made direct reference to fans discussing what her character item should be.
She also reports things like Tonio's late arrival and may even make a reaction to the release of other VOCALOIDs like BIG AL. In January 2011, her Twitter account reached 1,000 followers.[6] The Twitter account is maintained by "Sonika" and not by a bot.[7]
The account has been left inactive as the last post was created in early 2012.
Community content is available under
CC-BY-SA
unless otherwise noted.