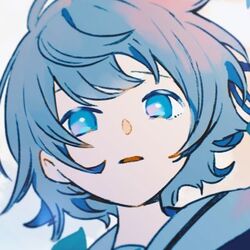 Affiliations
[
]
External links
[
]
Official
[
]
Unofficial
[
]
Zips (じっぷす) is a producer mostly known for the production of Heisei Project, along with his activities as a Utaite. Currently, he is the composer for the musical unit TUYU (ツユ).
He was born on May 23rd, 1994[1]. He discovered passion for guitar on the first year of high school and practiced 20 hours a day. Later on, he dropped out of high school and moved out to live alone in Osaka at the age of 16.
In 2012, at the age of 18, he began his career as a VOCALOID producer, with the representative work being "Heisei Project"[2]. He also began singing some time afterwards.
On December 10, 2015, he announced the change of his name to Pusu (ぷす), ceasing all activities under the previous alias[3][4]. In the same year, he formed a duet unit named "Miyapusu" along with fellow utaite Miyakawa-kun.
On April 2019, the closing song of Heisei Project, Heisei Sayonara Bye Bye was released.[5]. Afterwards, on May 23 of the same year, he released a statement regarding his retirement as a utaite.[6][7].
A month later, on June 12th, 2019, Pusu formed the new musical unit TUYU (ツユ), which consists of him as the music composer and guitarist, Rei (礼衣) on the vocal, omutatsu (おむたつ) as the illustrator, AzyuN as the video maker, and mirio as the pianist. Additionally, he is also an independent producer who does songwriting, arrangements, etc.
Works
[
]
| Links | Title | Featuring | Date | Roles |
| --- | --- | --- | --- | --- |
| • | イアイア☆イヤークラッシャー (IA IA☆Year Crusher) | IA | January 29, 2012 | music, lyrics |
| • | 復讐ディクテイター (Fukushuu Dictato) | IA, Hatsune Miku | August 22, 2012 | music, lyrics |
| • | ロイネリア (Roineria) | GUMI, Kagamine Rin | November 22, 2012 | guitar, mixing |
| • | うんk (Un k) | Hatsune Miku, GUMI | August 08, 2012 | music, lyrics |
| | "ヘイセイカタクリズム" | IA | December 26, 2012 | music, lyrics |
| | "ムシクイサイケデリズム" | Kagamine Rin and Kagamine Len | April 3, 2013 | music, lyrics, SSD |
| | "レイワイテロリズム" | GUMI | July 13, 2013 | music, lyrics |
| | "悪性ロリィタマキャヴェリズム" | GUMI | December 26, 2013 | guitar solo |
| | "トゥルー感情欠損" | GUMI | November 20, 2013 | music, lyrics |
| | "リズの内心革命" | IA | November 06, 2013 | music, lyrics |
| | "イザナミ討伐戦記" | GUMI | November 30, 2013 | music, lyrics |
| | "ウラガエシハート" | IA | April 17, 2014 | music |
| • | 紙ペラ人生攻略 (Kinmokusei no Tonari de) | GUMI | December 20, 2013 | music, lyrics |
| • | アウトローの傷心 (Gingaroku) | Kagamine Len | July 04, 2014 | music, lyrics |
| • | 盲目リンゴ (Moumoku Ringo) | Hatsune Miku | July 25, 2014 | music, lyrics |
| • | ウヌボレ仮面 (Unubore Kamen) | flower | October 01, 2014 | music, lyrics |
| • | カッターナイフ (Cutter Knife) | Kagamine Len | October 10, 2014 | music, lyrics |
| | "セカイの狭間" | Kagamine Rin | October 31, 2014 | music, lyrics |
| • | ユトリ最強世代 (Yutori Saikyou Sedai) | GUMI | November 14, 2014 | music, lyrics |
| None | "ヴォルカニックレイリズム" | Kagamine Rin and Kagamine Len | December 17, 2014 | producer |
| • | ダーリンドール (Darling Doll) | Hatsune Miku | February 22, 2015 | music, lyrics |
| • | 巫女装パルプテーション (Mikosou Palpitation) | GUMI, Hatsune Miku | March 06, 2015 | music, lyrics |
| | "アサガオの散る頃に" | Hatsune Miku V3 Dark | March 15, 2015 | music, lyrics |
| • | 梅雨明けの (Tsuyuake no) | Hatsune Miku | June 12, 2015 | music, lyrics |
| • | ナツノカゼ御来光 (Natsu no Kaze Goraikou) | Hatsune Miku | August 10, 2015 | music, lyrics |
| • | ゼンセイキバクダン (Zenseiki Bakudan) | Kagamine Len | June 13, 2017 | music, lyrics |
| • | ドドド更生人生 (Dododo Kousei Jinsei) | Hatsune Miku | July 14, 2017 | music, lyrics |
| • | クレイズィーダンスワールド (Crazy Dance World) | GUMI | August 22, 2018 | music, lyrics |
| | "ヘイセイサヨナラバイバイ" | GUMI | April 30, 2019 | music, lyrics |
Albums
[
]
Discography
[
]
| Affiliation | Title | Featuring | Date | Roles |
| --- | --- | --- | --- | --- |
| • | 時代改正ドミナント (Jidai Kaisei Dominant) | IA, GUMI, Kagamine Rin & Len | December 31, 2013 | music, lyrics |
| • | ホワイトノイズ (White Noise) | Hatsune Miku, Kagamine Rin & Len, GUMI, IA | December 17, 2014 | music, lyrics |
| • | ZIPS (album) | Hatsune Miku, Kagamine Rin & Len, GUMI, flower, Pusu | June 17, 2015 | music, lyrics |
Compilations
[
]
Affiliation
Title
Featuring
Date
Roles
FARM RECORDS
"VOCAROCK collection love IA"
IA
July 3, 2013
music, lyrics
•

EXIT TUNES PRESENTS GUMity from Megpoid

GUMI
August 7, 2013
music, lyrics
EXIT TUNES
"EXIT TUNES PRESENTS Vocaloexist feat. GUMI、IA、MAYU"
IA, GUMI, and MAYU
October 2, 2013
music, lyrics
TEAM Entertainment
"IA THE WORLD ~刻~"
IA
October 2, 2013
music, lyrics
EXIT TUNES
"EXIT TUNES PRESENTS Vocalofuture feat. 初音ミク"
Hatsune Miku, GUMI, Megurine Luka, Kagamine Rin, Kagamine Len, IA, MAYU, Camui Gackpo, KAITO, and MEIKO
November 6, 2013
music, lyrics
FARM RECORDS
"VOCAROCK collection 5 feat. 初音ミク"
GUMI, Hatsune Miku, IA, Kagamine Len, Kagamine Rin, and Megurine Luka
December 25, 2013
music, lyrics
KLAFT

EXISTENCE

Megurine Luka, Kagamine Len, GUMI, Aoki Lapis, Kagamine Rin, Hatsune Miku, Namine Ritsu
December 31, 2013
music, lyrics
EXIT TUNES

TOTAL OBJECTION (circle)

"EXIT TUNES PRESENTS Vocalofanatic feat. GUMI、IA、MAYU"
GUMI, IA, MAYU
February 5, 2014
music, lyrics
•

EXIT TUNES PRESENTS GUMical from Megpoid

GUMI
March 5, 2014
music, lyrics
TEAM Entertainment
"IA THE WORLD ~紅~"
IA
July 2, 2014
music, lyrics
•

debut

flower
October 01, 2014
music, lyrics
EXIT TUNES
"EXIT TUNES PRESENTS Vocaloseasons feat. 初音ミク ~Summer~"
Hatsune Miku, GUMI, IA, Kagamine Len, and Kagamine Rin
July 18, 2018
music, lyrics
EXIT TUNES
"EXIT TUNES PRESENTS GUMIssimo from Megpoid ―10th ANNIVERSARY BEST―"
GUMI
June 19, 2019
music, lyrics
Gallery
[
]
References
[
]